As the "revolver raids" gather steam and as the market prepares to digest what are likely to be a slew of writedowns as Q1 earnings begin to come in, the BTFD-ers of the world are keen on picking a bottom for crude. Unfortunately, the "crude" reality (to use a pun that becomes more of a cliche with each day that oil prices remain in the doldrums) is that a number of factors will likely conspire to keep prices depressed, not the least of which is storage capacity, something we've covered extensively and something which, geopolitical shocks notwithstanding, is likely to weigh on prices for the foreseeable future. Here, courtesy of Citi are all the visuals you need to comprehend the crude storage conundrum.
From Citi:
Already at record levels, US storage capacity may be tested in 2Q as production shows no signs of slowing yet. Prices should bottom if capacity limits are reached, then recover but in previous episodes such as shale gas when the market has expected the US to hit a wall, it hasn't. Any price recovery will likely be short lived as higher prices should re-start shale drilling, once again increasing supply and sending prices back down…

 

US crude oil mid-continent inventories are expected to draw down mildly from May to August, and the next problem could well arise come fall when refinery maintenance begins with seasonally highest level stocks…

 

And by autumn, the US Gulf Coast could also see storage constraints when refiners go into what could be deeper and longer maintenance given the shallow maintenance this winter and spring.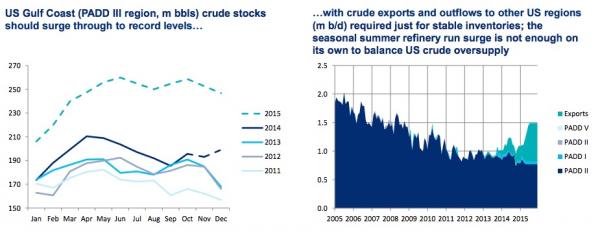 *  *  *