In the 1H chart, we can see that USD/CAD has been coiling in February (since last week), after holding above 1.2350. 

USD/CAD 1H Chart 2/10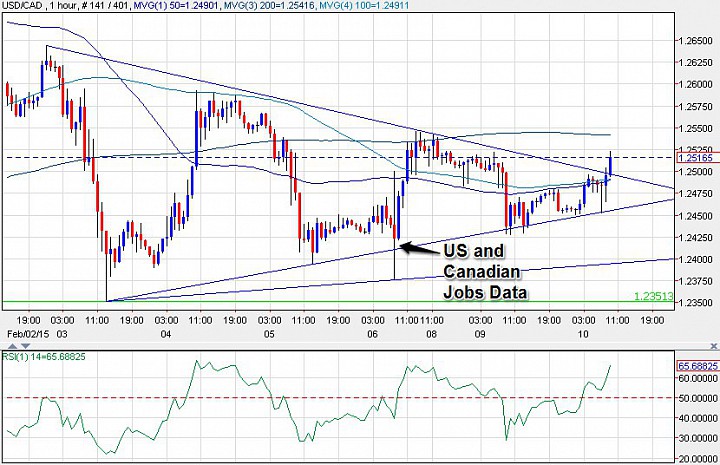 (click to enlarge)
Last week we had strong US and Canadian jobs data. The thing is that the strong US data reflects a trend of improving labor conditions in the US. For Canada, it was a bright spot in a trend of poor jobs data, so we can say that US data was more indicative of the economic conditions as a whole. For Canada, we would have to wait for more consistency before a positive assessment of the labor market. 

The 1H chart shows the reaction which was shaky at first, but eventually turned bullish. 

USD/CAD closed last week remaining in the triangle, but today (2/10), price has broken above the triangle, signaling bullish continuation. 

First, this is a volatility breakout, so let's not get too excited about the upside first. If price pulls back but is able to hold above 1.25 for the most part, then, the bullish outlook strengthens, especially if the 1H RSI tags 70 and then holds above 40 (shows growing bullish momentum).

If we can establish both volatility and directional breakout, the USD/CAD has the 1.2650 February high in site as well as the 2015-high at 1.2798, with risk of breaking higher towards the 1.30 psychological level, and also highs for 2008-2009.