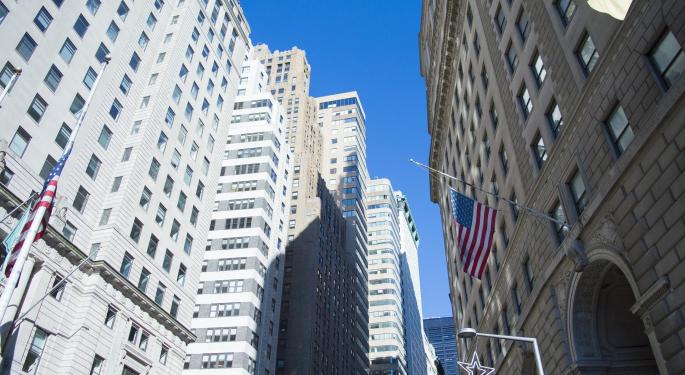 Macro Focus
OPEC on Wednesday cut its forecast for global oil demand growth in 2016 and warned of further reductions citing concern about Latin America and China, pointing to a larger supply surplus this year.
Regulators ordered five large U.S. banks to make significant revisions to their plans for possible bankruptcy by October 1 or face potential regulatory sanctions, a stern warning that will fuel criticism that the firms are "too big to fail."
Bloomberg has an interesting interactive infographic on the best and worst states to avoid income taxes. Is yours near the top?
U.S. House of Representatives Speaker Paul Ryan said he would reject any attempt to draft him as a Republican presidential candidate, trying to squash speculation he could surface as a unity choice should Donald Trump or Ted Cruz falter.
BZ News Desk Focus
JPMorgan JPM 4.54% net income fell 7 percent year-over-year to $5.52 billion from $5.91 billion in the year-ago quarter. EPS fell 7 percent to $1.35 a share from $1.45 a share in the comparable period. Analysts expected the company to deliver earnings of $1.26 a share.
USA PPI (MoM) for March came in at -0.10 percent vs. 0.20 percent consensus estimate. YoY for March was -0.10 percent vs. 0.30 percent consensus estimate.
USA Retail Sales (MoM) for March came in at -0.30 percent vs. 0.10 percent estimates.
Sell-Side Themes
Wynn Resorts was cut to Hold at Deutsche Bank, while Citi maintained its Buy rating by calling Macau's Wynn Palace a "game changer."
Chipotle was cut to Underperform, while Buffalo Wild was assumed at Underperform, at CLSA.
Sell-Side's Most Noteworthy Calls
Wells Fargo downgraded Marathon Oil  to Market Perform.
Pacific Crest downgraded Sprint from Sector Weight to Underweight.
Canadian Pacific was resumed with a Buy rating and $162 price target at Bank of America.
Deal Talk
Skullcandy announced after Tuesday's close an expansion of its long-time partnership with NBA All-Star and equity holder Kyrie Irving.
Medivation were trading up following a report about a "rebuffed takeover approach" from Sanofi.
McCormick says it does not intend to bid for Premier Foods
What's Up In The News
The FBI cracked a San Bernardino terrorist's Apple iPhone with the help of professional hackers who discovered and brought to the bureau at least one previously unknown software flaw, The Washington Post reported according to people familiar with the matter.
In CareerCast.com's 28th annual Jobs Rated report's 10 worst jobs list: Newspaper Reporter, Broadcaster and Pest Control Worker are ranked among the worst jobs of 2016.
Bloomberg took a look at the nondescript building where trillions trade each day. Equinix's NY4 data center hosts 49 exchanges among the more than 6,300 customers that have set up servers in the New Jersey facility.
The epidemic of fake news on Facebook isn't over, it's just more distributed. BuzzFeed reports on how Facebook is trying to combat the issue.
Blogosphere
"Many important people, in both academia and Congress, want to reform the U.S. Federal Reserve. Unfortunately, their proposals tend to focus more on optics than on the important question: How can changing the Fed make Americans better off?"
Does anybody know anything about anything? This study said people's perceptions of potential market crashes are dramatically higher than reality.
Trending
#MambaDay is being celebrated, and perhaps shunned by many, as Los Angles Laker Kobe Bryant will play his final game tonight.
36,000 Verizon VZ 1.46% workers are going on strike: "Since last June, we've worked diligently to try and reach agreements that would be good for our employees, good for our customers and make the wireline business more successful now and in the future. Unfortunately, union leaders have their own agenda rooted in the past and are ignoring today's digital realities."
Quote Of The Day
"For, lo, the winter is past, the rain is over and gone;
The flowers appear on the earth; the time of the singing of birds is come;
And the voice of the turtle is heard in our land."
Hall of Famer Ernie Harwell kicked off the first radio broadcast every season with this bible verse. Harwell died in 2010.
His radio partner of 19 years, the deep baritone voice of Paul Carey, died Tuesday at the age of 88. Detroit Tigers and baseball fans around the country will never forget the memories these two helped usher in.
Read more: http://www.benzinga.com/news/16/04/7835001/the-market-in-5-minutes-jpmorgan-too-big-to-fail-and-paul-carey#ixzz45jZwDaWt