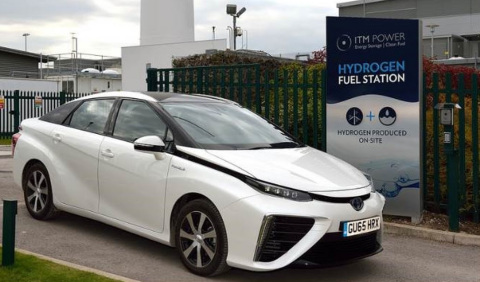 LONDON--(BUSINESS WIRE)--BOC, the UK's largest supplier of industrial gases, has announced that it has signed an agreement with ITM Power, the energy storage and clean fuel company, to provide infrastructure for ITM Power's new electrolyser-based hydrogen refuelling stations for passenger cars. The announcement underpins ITM Power's ongoing plans to build a network of hydrogen refuelling stations in the UK and demonstrates its commitment to green transport. Hydrogen-powered vehicles emit only water vapour, produce no carbon emissions or air pollution, have a range of several hundred miles and refuel in three minutes.
BOC & ITM Power announce agreement to provide infrastructure for hydrogen refuelling stations

Tweet this
BOC, a member of The Linde Group, will use its specialist market knowledge to source and install the most appropriate Group technology including hydrogen compressors and dispensers. These will be installed at ITM Power's new hydrogen refuelling station locations, based on its proprietary electrolyser technology. This latest siting and refuelling agreement builds on the existing successful partnership between the two companies.
The Linde Group is one of the leading gases and engineering companies in the world with over 135 years' experience in dealing with gases, as well as the strength to create a safe and sustainable platform for alternative fuels and energy carriers such as hydrogen and liquefied natural gas (LNG). BOC...
More