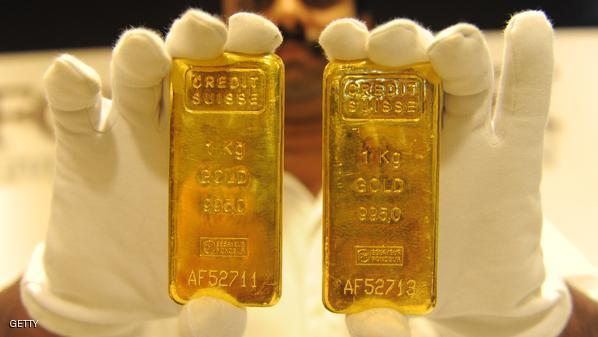 Trimmed gold futures losses to record the highest price during the trading session on Tuesday, influenced by the issuance of durable goods gloomy data from the United States, in December, raising concerns about the strength of the economy.
On the Comex division of the New York Mercantile Exchange, gold delivery in April rose 6.50 cents, or equivalent to 0.51%, to trade at $ 1,286.90 per ounce during trading morning US time Alammerakihh.
Prices have fallen by 7.10 cents earlier to the lowest daily rate of $ 1,273.30 per ounce of gold lowest price since January 19.
On the previous day, gold fell 13.20 cents, or equivalent, or 1.02%, to close at $ 1,280.40 an ounce, while turnout dropped to safe assets because of the tension of the results of the Greek elections.
And was likely to find support gold at $ 1,272.10 per ounce, the lowest price since January 20 and resistance at $ 1,303.00 per ounce the highest price since January 23.
Also in the Comex, silver March delivery rose 1.5 cents, or 0.08%, to trade at $ 17.99 an ounce., On Monday, silver fell 7.31 cents, or 1.73%, to close at $ 17.98 per ounce.
In the report, the US Commerce Department said that total durable goods orders, which include transportation, fell 3.4% last month, compared with expectations for an increase of 0.5%.
Fell core durable goods orders, excluding volatile transportation items, rose 0.8% in December, disappointing expectations that were looking forward to a 0.6% gain.
Orders fell on core capital goods, which are considered a key measure for measure of business investment in the private sector, by 0.6% in the last month, worse than expected, which was waiting for a rise of 0.9% from.
And decreased shipments of core capital goods, a category used to calculate the quarterly economic growth rate of 0.2% in December, disappointing expectations for a gain of 1.0%.
Later in the day, market participants awaited the Federal Reserve Bank meeting, which lasts for two days in search of further clarification about the timing of the start raising interest rates.
At the same time, the euro rose against the dollar, rebounding from its lowest rate in 11 years in the previous session, after it fell concerns raised by the opposition party Syriza victory for austerity measures in the Greek elections.
The dollar index, which measures the strength of the dollar against a basket of six major currencies, rose 0.75 percent to 94.58, after touching its highest level in more than 11 years by 95.77 last Friday.
Elsewhere in metals trading, March copper / March delivery fell 4.6 cents, or equivalent to 1.82%, to trade at $ 2.497 a pound.
And record copper contract for March / March the lowest price at $ 2.419 a pound, a level not seen since the copper in June 2009, before rising to record of $ 2,543 a pound, up by 4.1 cents, or 1.66%.
Red metal fell by 11.5% so far in January / Enyerma as concerns over the global economic outlook and its impact on future demand forecasts, which reduced the appeal of commodities.