Established apparel giant Under Armour (NYSE:UA) and upstart activity tracking device maker Fitbit (NYSE:FIT) won't show up together on many stock screens. The first uses superstar athletes to help sell performance clothing and footwear while the latter pours cash into engineering so that its devices can dominate the hot market of wearable technology.
Their recent stock returns are polar opposites, too: Under Armour is up 350% in the last five years while Fitbit's is down 53% since its IPO. Yet each company represents a potentially attractive bet for long-term investors from here.
Here's a big-picture look at how the two companies stack up against each other:
| Metric | Under Armour | Fitbit |
| --- | --- | --- |
| Market cap | $17 billion | $3 billion |
| Sales growth | 28% | 149% |
| Gross profit margin | 48% | 49% |
| Price-to-sales | 4.1 | 1.5 |
| Forward P/E ratio | 47 | 10 |
Sales growth is for the past complete fiscal year. Data sources: Company financial filings and S&P Global Market Intelligence.
Diversification and track record
The two numbers that really leap out of the above chart are sales growth and forward P/E. Together they demonstrate that investors see Under Armour's earnings outlook as much more reliable than Fitbit's.
Wall Street has good reason to come to that conclusion. After all, Under Armour just logged its 24th consecutive quarter of 20% or better sales growth and net income has more than doubled in the last five years as the company expanded overseas and successfully pushed into new product categories like footwear.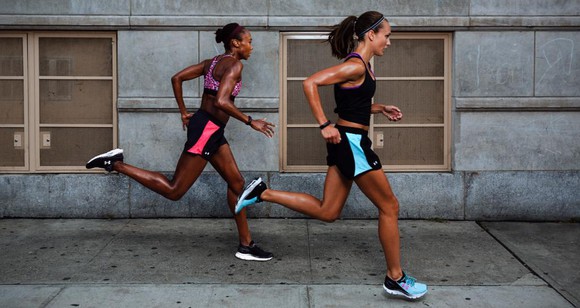 Fitbit's track record is much shorter...
More