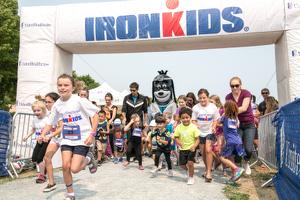 SEATTLE--(BUSINESS WIRE)--
Nearly 75 young athletes participated in the second UnitedHealthcare IRONKIDS® Seattle Fun Run today at Genesee Park. UnitedHealthcare mascot Dr. Health E. Hound kicked-off the fun run, joined by Sylvia Villalovos-Aguilar, UnitedHealthcare Community Plan of Washington.
This Smart News Release features multimedia. View the full release here: http://www.businesswire.com/news/home/20150822005007/en/
Local athletes, ages 3-15, had the opportunity to run along portions of the Iron Girl Seattle course, which takes place tomorrow. For the first time in Washington, IRONKIDS offered 1-mile and ¼-mile tracks for physically challenged youth athletes. At the start of the fun run, Villalovos-Aguilar presented a check for $3,000 to local community partner Victory Outreach Children's Ministry to help promote the organization's free programs for Seattle youth.
"The IRONKIDS fun run is a great way for our community to come together in an active and healthy way and to teach our youth the importance of a healthy lifestyle," said Doug Bowes, CEO, UnitedHealthcare Community Plan of Washington. "UnitedHealthcare is grateful for the opportunity to partner with IRONMAN and the Victory...
More