Summary
Coca-Cola (NYSE:KO) is the world's largest beverage manufacturer. Its leader position makes it one of the most beautiful money-making machines on the market.
KO's distribution network is one of its most powerful competitive advantages. It can introduce any type of beverage across the world in a heartbeat.
However, currency headwinds, coupled with an increasing taste for healthy products have slowed down Coca-Cola's revenue growth potential.
DSR Quick Stats
Sector: Consumer defensive
5-Year Revenue Growth: 8.22%
5-Year EPS Growth: 4.44%
5-Year Dividend Growth: 8.27%
Current Dividend Yield: 3.08%
What Makes Coca-Cola a Good Business?
There is little to say that hasn't been said already about Coca-Cola, so I'll make this section brief.
First things first, Coca-Cola is probably the best-known brand across the globe. Such brand power cannot be replicated. Besides the classic Coke, the company owns several popular brands, such as Vitamin Water, Powerade, Minute Maid, Dasani, Simply Orange and, most recently, Keurig. It claims to own twenty brands worth over $1 billion each in its portfolio.
KO's second notable competitive advantage is its distribution power. The company has the ability to offer its products in over 200 countries. Here's an idea of how wide this company is spread:

(Source: Coca-Cola infographic)
Therefore, each time the company has a new product, it can promote and distribute it across the world the next morning.
Ratios
Price-to-Earnings: 24.49
Price-to-Free Cash Flow: 20.75
Price-to-Book: 6.424
Return on Equity: 24.34%
Revenue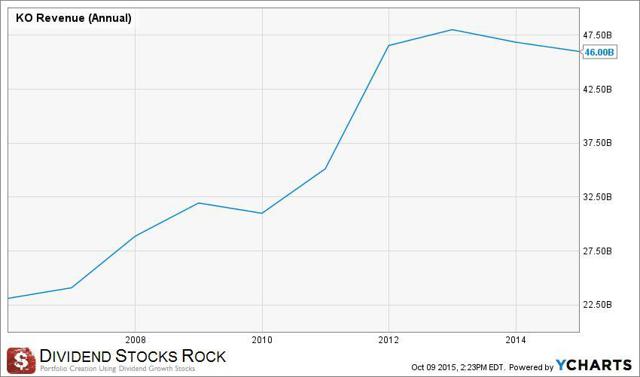 (Revenue Graph from YCharts)
Coca-Cola is experiencing a small decline in North America for its popular carbohydrate drinks. A strong currency doesn't help to support revenue growth either. We can say that revenue is relatively flat since 2012. Looking forward, I don't expect a significant increase in 2016, but the US dollar should not be a major factor, since most of its strength has already been taken into account.
How KO Fares Versus My 7 Principles of Investing
We all have our methods for analyzing a company. Over the years of trading, I've been through...
More