Since March, shares of deeply distressed drugmaker Valeant Pharmaceuticals (VRX - Get Report) have to about $26 from $30 apiece.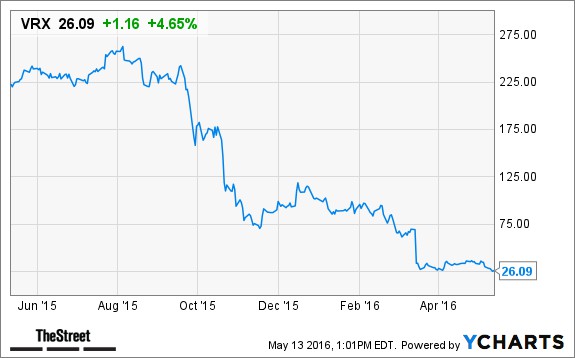 During this period, Moody's downgraded Valeant's credit rating to B2.
The company also fired the sales force for the female libido pill Addy, which it acquired for $1 billion.
Must Read: Herbalife Shareholders Can Expect More Than 'Slap on the Wrist,' Ackman Says
Divestments may be the way forward to pare down Valeant's monster $30 billion-plus debt load. It is difficult to imagine a turnaround for the company unless it sells its biggest assets.
Valeant's stock looks like it is heading straight to zero, making it one of the most vulnerable stocks on the market.
Joseph Papa, the former chairman and chief executive of Perrigo has joined Valeant as its new CEO, after being offered a $60 million compensation package. He has his work cut out for him, to put it mildly.
There are few positives at Valeant.
One is that Legg Mason Opportunity Trust manager Bill Miller, known for either hitting a home run or striking out with his investments, said that he bought Valeant's stock for between $28 and $32.
That said, the company candidly said that revenue this year will fall by...
More