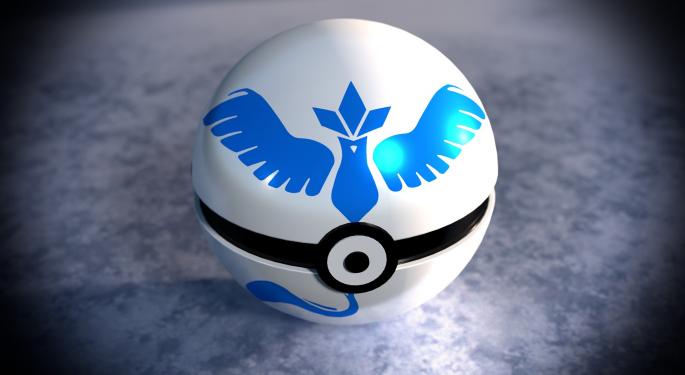 Nintendo Co., Ltd (ADR) (OTC: NTDOY) shares shot up more than 100 percent following the launch of the hit game Pokémon GO, adding more than $21 billion to Nintendo's market cap.
Many analysts have begun to move on from Nintendo to showcase the impacts Pokémon GO could have on tech companies such as Facebook Inc (NASDAQ: FB) Twitter Inc (NYSE: TWTR), T-Mobile US Inc (NASDAQ: TMUS), Apple Inc. (NASDAQ: AAPL) and Alphabet Inc (NASDAQ: GOOG) (NASDAQ: GOOGL).
Chowdhry's Take
Global Equities Research's Trip Chowdhry gave his opinion on who the winners and losers were from Pokémon GO. The dedicated analyst interacted with more than 700 Pokémon GO players in San Francisco, Berkeley and Santa Cruz, along with seven software developers.
Winners
T-Moble: Since many Pokémon GO gamers are upgrading to unlimited data plans according to Chowdhry, "many gamers feel TMUS has the cheapest unlimited Data Plan." Since many players are Millennials and cost sensitive, T-Mobile is positioned well with its lower cost unlimited data plan.
Apple: Pokémon GO has been triggering upgrades to iPhones, especially in the Senior Citizen category, said Chowdhry. "Some Pokémon GO gamers had Father, Grandfather, Grandchild all playing the game together."
"Pokémon Go is acting like a trigger for Senior Citizens to switch from feature phones to iPhone" stated the analyst.
Alphabet: Since the Pokémon GO map services is run using Google Map's platform and login servers are run on Google Cloud, the growth of Pokémon GO will grow Alphabet.
Losers
Facebook:According to the analyst, Pokémon GO has caused a shift, taking user time consumption away from Facebook Messenger and Snapchat. "About 60 percent of Pokémon GO users, who we spoke to, have also reduced their time spent on Facebook Messenger," said Chowdhry.
Snapchat: "Almost all, literally 100 percent of Pokémon GO users, who we spoke to, have reduced their time spent on SnapChat," stated Chowdhry.
Neutral Impact
Twitter: According to Chowdhry, Pokémon GO has no impact on Twitter. There was "No (or very little) Demographic Overlap between Pokémon GO user and TWTR user," stated the analyst.
None of the 700 people the analyst spoke to were active on Twitter, and most players were between the age groups of 18 and 30.
According to TipRanks, Trip Chowdhry is ranked 322 out of 4075 analyst's having a success rate of 60 percent and an average rate of return per recommendation of +15.4 percent.
Did you like this article? Could it have been improved? Please email feedback@benzinga.com with the story link to let us know!
Date
Firm
Action
From
To
Jan 2015
Bank of America
Initiates Coverage on
Underperform
Jan 2015
Jefferies
Upgrades
Underperform
Hold
Dec 2014
Jefferies
Downgrades
Hold
Underperform
© 2016 Benzinga.com. Benzinga does not provide investment advice. All rights reserved.
Source