AMD's sharp 5.72 percent drop today and 10.32 percent net for the weekly period should raise eyebrows. Ahead of the run-up, I asked if AMD was worth $7 or $11.
The markets set $7 as the interim peak. On its way up (+118 percent YTD), short float shrunk. It is now 9.03 percent, which suggests the buying pressure through short covering is at an end.
<!== INSTRUMENT %% %60% ==!>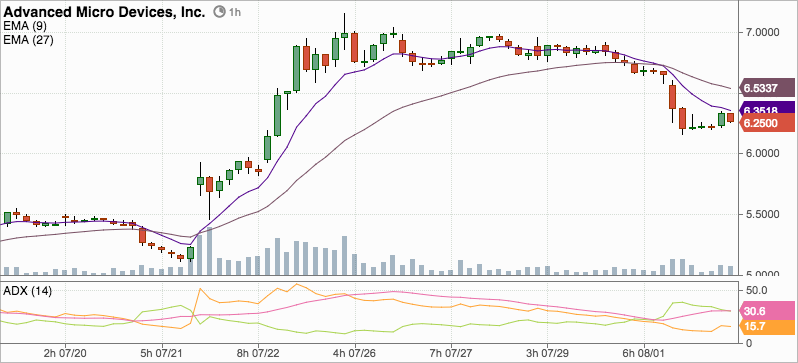 AMD rose after earning strong reviews for its Polaris GPU card. The GTX 480 will not face much competition from NVIDIA's GTX 1060. The equivalent GTX 980 and 970 might find buyers, but that is based on hope. It makes better sense for PC game systems running AMD's card. The Polaris chipset will get updates for DirectX 12 and will run VR programs.
AMD will release the GTX 470 and GTX460 this quarter.
AMD's two-day price drop is due to investors locking in profit. This is expected, but the timing of the drop was not really known.
What to do next
AMD's stock must hold the $5.00 - $5.50 level. If it does not then bulls who paid too much may sell to limit losses. In the longer term, a fall in AMD stock creates an entry point. News of partners approving the Zen proof of concept is just what AMD's stock needs.