Indian trading ended in positive territory amid expectations that the US presidential election will be won by Hillary Clinton, who is again leads Donald Trump after the FBI closed her email probe.
Metal&mining, banking and media stocks outperformed the broader market, whereas pharmaceutical and high-tech sectors as well as the real estate name were among the decliners.
By the close, the Nifty 50 index was 0.55% higher at 8,543.55, and the BSE Sensex rose 0.48% to 27,591.14.
By 11:03 GMT, the USD/INR currency pair eased 0.17% to 66.628, and EUR/INR was down 0.12% at 73.6000. The 10-year Indian government bond yield fell to 6.831%.
ICICI Bank gained 1.61% on better-than-expected quarterly earnings.
Meanwhile, carmaker Tata Motors soared 5.4% as Credit Suisse's analysts upgraded their rating on the stock from Neutral to Outperform.
As noted above, pharmaceutical stocks underperformed. In particular, Sun Pharmaceutical Industries and Cipla retreated 2.98% and 1.91%, respectively.
From a technical standpoint, the BSE Sensex is trading within a falling wedge, while the Slow Stochastic Oscillator and the RSI are bull-friendly. Given the above, we expect the index to move towards the upper bound of the pattern in the short term.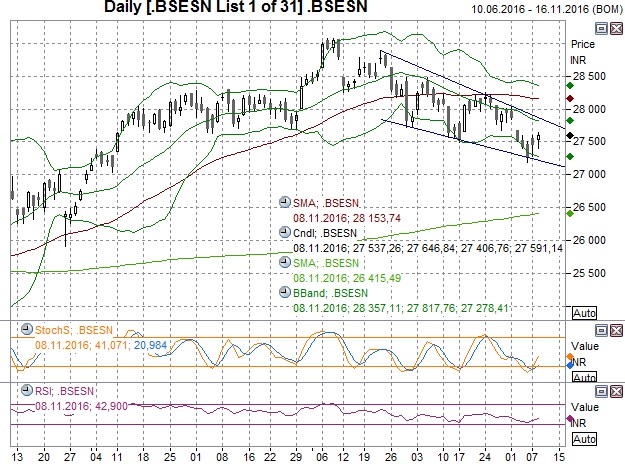 .