Oil prices are oscillating higher and lower this morning (likely helped by the collapsing dollar) despite a report from The IEA that the global oil glut will persist well into 2016. As The FT reports, global oil supplies are still growing at 'breakneck speed' and outstripped consumption in the second quarter by 3m barrels a day, the most since 1998, rather ominously concluding, "while a rebalancing has clearly begun, the process is likely to be prolonged."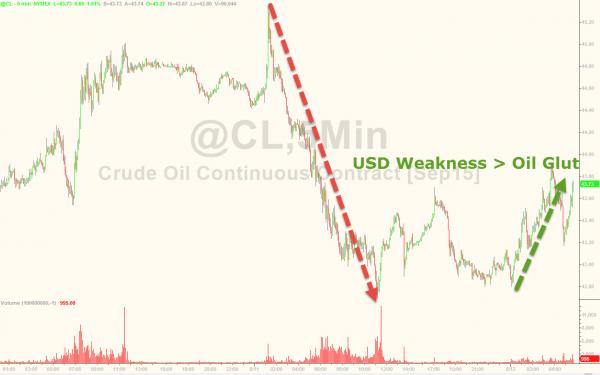 The oil industry is hunkering down for an extended period of depressed prices and have adopted the "lower for longer" mantra, the IEA said.

 

"Global inventories will pile up further," it said, adding that demand will not cut into the surplus until late 2016 at the earliest.

 

 

"Even with the slowdown in non-Opec production and higher demand growth, a sizeable surplus remains," the IEA said.

 

The outlook does not include higher Iranian output should sanctions be lifted.

 

...

 

"If the oversupply persists it becomes much more important to understand how much storage is available," said Jamie Webster, analyst at IHS Energy. "There is not an infinite amount. Unfortunately the total volume of tankage available is an opaque topic for some key regions."

 

The IEA said the hundreds of billions of dollars of investment cuts by energy companies will eventually help rebalance the market.
But if demand continues as it has done this year, the situation will become "increasingly sensitive", the IEA added.
*  *  *
Which explains why the algos were buying oil earlier on.