2016 has been a surprisingly good year for gaming stocks. Wynn Resorts, Limited (NASDAQ:WYNN), Las Vegas Sands Corp. (NYSE:LVS), and MGM Resorts International (NYSE:MGM) all surged by double digits, helped by some signs of recovery in Macau. But Caesars Entertainment Corp. (NASDAQ:CZR) lagged well behind competitors, actually losing ground this year. How did Caesars become the worst gaming stock of 2016?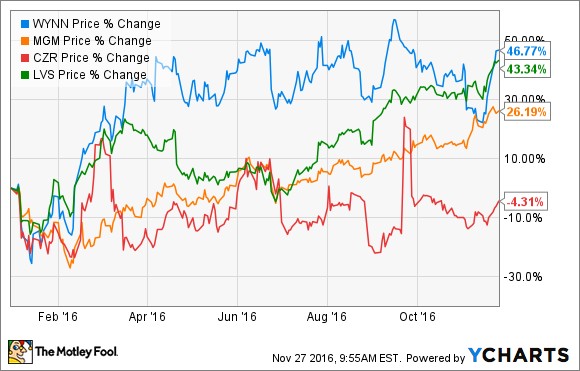 How Caesars failed where others succeeded
The current bad year for Caesars really began years ago when Caesars Entertainment's management split the company into pieces, primarily composed of the debt-laden subsidiary Caesars Entertainment Operating Company (CEOC) and companies controlled by publicly traded Caesars Acquisition Company (NASDAQ:CACQ). CEOC was the "bad Caesars" and Caesars Acquisition Company was the "good Caesars" in the new structure.
Not surprisingly, CEOC quickly went bankrupt and the fight over the company's restructuring is what has hurt Caesars Entertainment's stock in 2016. A full deal to restructure Caesars Entertainment, CEOC, and Caesars Acquisition Company has largely been agreed to, and it'll pull all of the companies back together. But it'll leave public shareholders in Caesars Entertainment with just 6% of the company. That's a small fraction of a company that may still struggle operationally, particularly with a large percentage of revenue coming off the...
More