Summary
In May 2012 JPMorgan incurred $2B in proprietary trading losses brought on by the "London Whale".
JPMorgan currently has a $2.25B credit facility with Weatherford - the "Swiss Whale" - which has total debt of nearly $8B.
Weatherford's liquidity strain could worsen once principal repayments come due next year. It may need more debt from JPMorgan to stay afloat.
If JPMorgan pulls the plug, WFT's equity could be wiped out.
If JPMorgan does not redeem its debt this year, it could have another whale-sized loss on its hands.
In May 2012 JPMorgan Chase (NYSE:JPM) reported a $2 billion on complex debt trades made by the infamous London Whale. The Whale had bet on the recovery of corporate bonds, and wound up losing out when prices moved against him. Today JPMorgan has to contend with the "Swiss Whale" - Weatherford International (NYSE:WFT) - the oil services giant JPMorgan and a syndicate of banks have a $2.25 billion credit facility with.
Weatherford has operations throughout the globe but is domiciled in Switzerland. The company has grown via a debt-fueled acquisition spree. Now that oil prices have tested their six year lows, Weatherford's revenue and EBITDA have been in free fall and its $7.8 billion debt load looks more like an albatross.
Weatherford's respective revenue and EBITDA for Q2 were down 14% and 24% sequentially.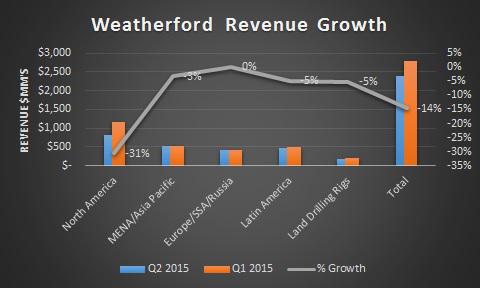 Source: Shock Exchange
North America which represents about 34% of total revenue, saw revenue and EBITDA declines of 31% and 95%, respectively. Halliburton (NYSE:HAL) is giving Weatherford the TWA treatment in the region - offering price concessions that heavily-indebted Weatherford may find difficult to match.
The company generated cash flow from operations of only $42 million in the first half of 2015. If cash flow turns negative or if it experiences liquidity...
More