Three months ago we were stunned to learn, and report, that the Swiss National Bank - a central bank - had been one of the biggest buyers of AAPL stock in the first quarter, when it added 3.3 million shares to its existing position, or 60%, bringing the total to 9 million shares, for a grand total of $1.1 billion. Moments ago, the SNB which unlike the Fed and the other "serious" central banks releases a 10-Q divulging its equity holdings, updated on its latest stock portfolio.
We were amused to learn that in the quarter in which AAPL stock almost hit a new all time high, the Swiss money printing authority which reported a record $20 billion loss in the second quarter, and a record $52 billion in the first half, added another 500,000 AAPL shares, bringing its new grand total to a whopping 9.4 million shares, equivalent to $1.2 billion as of June 30 (well below that now following the recent 10% correction).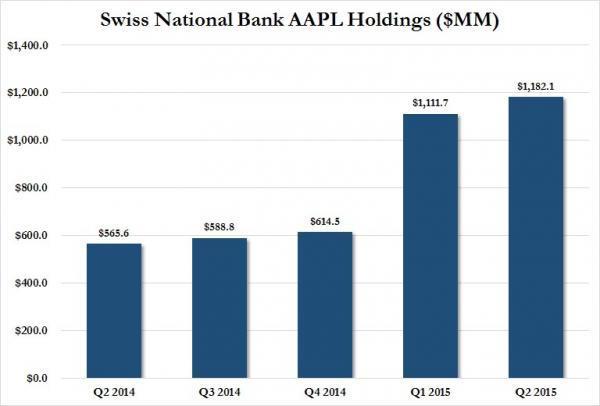 At $1.2 billion, AAPL remains the top holding of the SNB, almost double the second largest position, which as of June 30 was Exxon stock valued at $637 million (and is worth much less now, and has most likely been surpassed in notional terms by #3 MSFT).
So what are the the Swiss hedge fund with nearly $94 billion in equity holdings? Here is the full breakdown.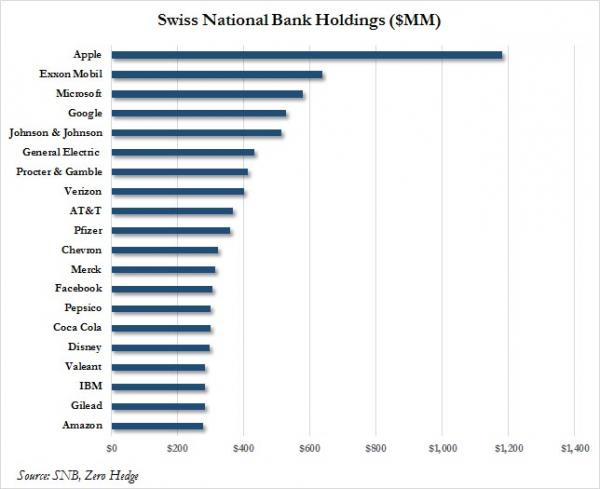 Now if only the Fed would be this transparent about its own equity holdings...