The third-quarter reporting cycle is currently underway, with a significant number of reports coming in this week.
According to the Earnings Preview , 138 S&P 500 members or 32.9% of the index's total membership have reported quarterly results as of Oct 24. Of these, approximately 70.3% of the companies delivered positive earnings surprises, while 68.1% beat top-line expectations. Earnings of these companies grew 7.3% from the comparable period last year, while revenues were up 4.9%.
The earnings performance so far is in line with the previous quarter, of the same group of companies, but is better than the four and 12-quarter averages. Revenue growth is notably tracking higher.
Tomorrow, two Internet-commerce stocks — Amazon.com, Inc. AMZN and Expedia, Inc. EXPE — are scheduled to announce their third-quarter 2017 results. Let's have a close look at the factors that will impact their results.
Predictions for Amazon
We expect earnings to be hurt (as usual) by continuous heavy investments in fulfillment centers, TV shows and movies, AWS, acquisitions, India expansion and what not. It's looking for a second headquarter in North America and plans to invest $5 billion for it. Amazon's global margins are likely to be under pressure at least for a few years.
However, revenues are expected to improve on strong Prime Day' 17 sales, the integration of Whole Foods, a solid loyalty system in Prime and the Fulfillment by Amazon (FBA) strategy.
We observe that Amazon shares have gained 30.1% year to date, underperforming the 48.7% rally of the industry it belongs to.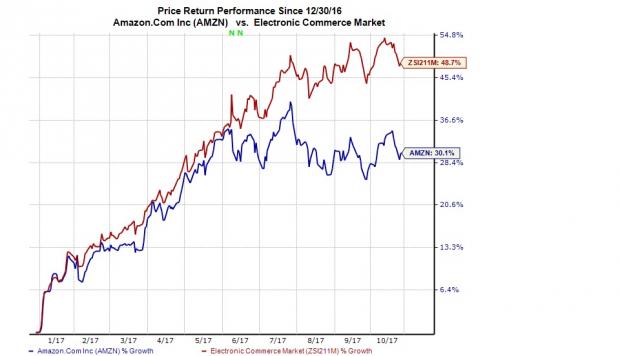 Notably, Amazon keeps its retail business very hard to beat on price, choice, and convenience with the help of a solid loyalty system in Prime and its FBA strategy. Also, AWS continues to be a multi-billion-dollar business and is the cash cow for Amazon. It generates much higher margins than retail and is the key driver of Amazon's profitability.
Moreover, Alexa powered Echo devices are going great guns and helping Amazon sell products and services. The company is racing to build an ecosystem around Alexa to make sure that it stays way ahead of Alphabet GOOGL subsidiary Google's smart assistant, Apple's AAPL Siri and Microsoft's Cortana.
Amazon has accelerated its grocery push as evident from its acquisition of Whole Foods. It is targeting the considerably large customer base that still prefers to shop at physical stores. The company has been expanding Prime internationally to strengthen its foothold in international markets and create a launch pad for its other business. It could complement the company's current expansion efforts such as investments (in India) and acquisitions (like that of Souq.com). (Read: Amazon's Q3 Earnings to be Hurt by Heavy Investments)
Predictions for Expedia
We expect strength in Core OTA, Trivago and Homeway segments to be offset by weakness in the Egencia business in the to-be-reported-quarter. Core OTA performance is expected to be driven by solid momentum in room night growth in all key regions. The Zacks Consensus Estimate for this segment's revenues is currently pegged at $2.3 billion.
Trivago's stupendous growth will continue to be driven mainly by strong volumes and solid monetization. The Zacks Consensus Estimate for this segment's revenues is currently pegged at $370 million.
HomeAway is expected to witness robust growth as well since HomeAway conversion rates are strong and have been increasing year over year. Consistent increase in stayed room night and stayed property night is also expected to contribute to HomeAway's growth. The Zacks Consensus Estimate for this segment's revenues is currently pegged at $292 million.
Egencia is however expected to be lumpy and partially offset strong performance of other segments due to the impact of the churn of Orbitz for Business customers during last year's migration. Also, Expedia's plan to ramp-up sales organization in the Egencia business will impact margins in the near term. The Zacks Consensus Estimate for this segment's revenues is currently pegged at $123 million. (Read: Expedia's Q3 Earnings May Reflect Egencia Weakness)
We observe that shares of Expedia have gained 33.1% year to date, significantly underperforming the industry's 48.7% rally.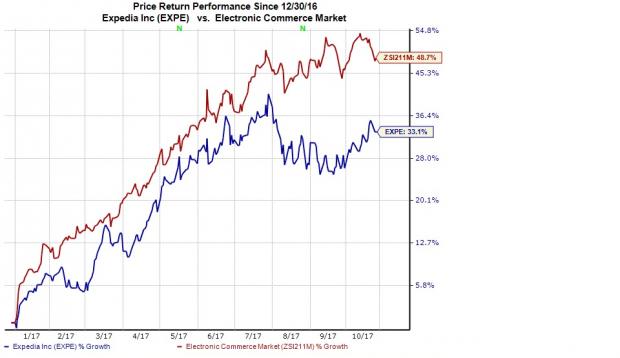 What Our Model Says
Amazon carries a Zacks Rank #5 (Strong Sell) and its Earnings ESP is -1,399.87%. You can uncover the best stocks to buy or sell before they're reported with our Earnings ESP Filter.
The company has missed estimates in two of the trailing four quarters with an average negative surprise of 14.14%.
Expedia holds a Zacks Rank #4 (Sell) and has an Earnings ESP of -4.80%. The company has missed estimates in each of the trailing four quarters with an average negative surprise of 12.54%.
Please note that according to the Zacks model, a company with a Zacks Rank #1 (Strong Buy), 2 (Buy) or #3 (Hold) has a good chance of beating estimates if it also has a positive Earnings ESP. Zacks Rank #4 or #5 are best avoided especially if they have a negative Earnings ESP.
You can see the complete list of today's Zacks #1 Rank stocks here.
Zacks' Hidden Trades
While we share many recommendations and ideas with the public, certain moves are hidden from everyone but selected members of our portfolio services. Would you like to peek behind the curtain today and view them? Starting now, for the next month, I invite you to follow all Zacks' private buys and sells in real time from value to momentum...from stocks under $10 to ETF to option movers...from insider trades to companies that are about to report positive earnings surprises (we've called them with 80%+ accuracy). You can even look inside portfolios so exclusive that they are normally closed to new investors.
Click here for Zacks' secret trade>>
Want the latest recommendations from Zacks Investment Research? Today, you can download 7 Best Stocks for the Next 30 Days.
Click to get this free report
Expedia, Inc. (EXPE): Free Stock Analysis Report
Amazon.com, Inc. (AMZN): Free Stock Analysis Report
Alphabet Inc. (GOOGL): Free Stock Analysis Report
Apple Inc. (AAPL): Free Stock Analysis Report
To read this article on Zacks.com click here.
Zacks Investment Research