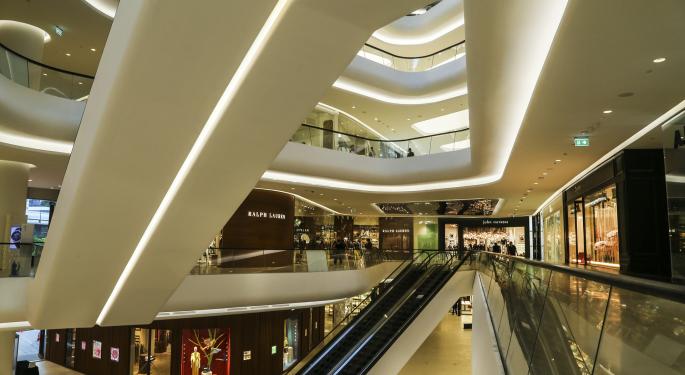 It may be hard to imagine a world without Amazon.com, Inc. AMZN 0.54%, but the Amazon era is still less than 20 years old. In fact, the Amazon online marketplace launched just 16 years ago, back in 2000.
There is no question that the Amazon marketplace has been one of the most successful business endeavors in history. It's also not surprising that Amazons stock has been one of the best investments in history as well.
Since the beginning of 2000, Amazon's shares are up 759 percent. As Amazon has grown, retail competitors have tried their best to adapt to the changing environment. Some have fared better than others.
The Competitive Atmosphere
Since Sears Holding Corp SHLD 4.87% completed its merger with K-Mart in 2005, the stock is down 90.4 percent. Revenue has also plummeted roughly 50 percent as well.
Macy's Inc M 0.21% has fared much better in the Amazon era, although it has also struggled to maintain growth. Macy's stock is up 71.1 percent since the beginning of 2000, but earnings are down 13.5 percent in that time.
J C Penney Company Inc JCP 0.77% has struggled mightily to stay relevant in the face of increasing e-commerce pressures. Shares are down 46.4 percent in the past 16 years, while revenue has dropped 60.4 percent.
Kohl's Corporation KSS 3.14% has stood up to Amazon pretty well. Revenue and income are up 314 percent and 142 percent in the past 16 years. The stock has even out-performed the S&P 500, climbing 72 percent since the beginning of 2000.
At Last Check
Amazon shares were down 0.54 percent at $766.24.
J.C. Penney shares were up 0.72 percent at $10.52.
Kohl's shares were up 2.91 percent at $59.50.
Macy's shares were down 0.23 percent at $42.08.
Sears shares were up 4.95 percent at $12.72.
© 2016 Benzinga.com. Benzinga does not provide investment advice. All rights reserved.