As of yesterday, earnings for the Zacks Computer and Technology sector were up +23.3% from a year ago, with revenues up +10.9%. This amazing performance is not expected to be an isolated to Q3 17, as current estimates are pointing to double digit growth over the next three quarters as well. Within the tech sector, the three biggest areas of growth are expected to come from the cloud, IoT (internet of things), and data centers. The table below shows the earnings and revenue growth for the most recent time periods, and some historical context.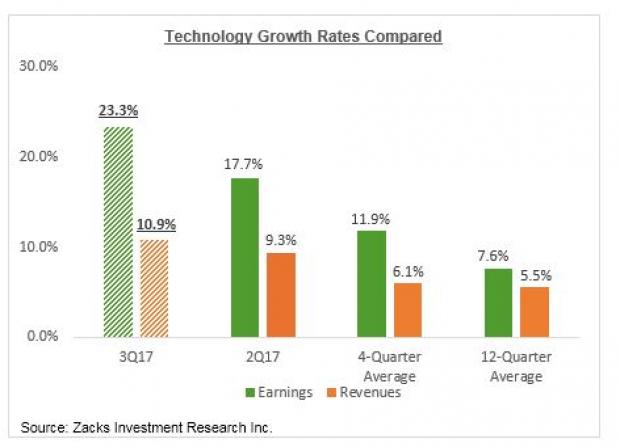 This week, I highlight two technology companies that have exposure to these high growth areas and pay out a solid dividend.
First is Microsoft (MSFT), a Zacks Rank #2 (Buy), recently reported earnings where they easily beat both the Zacks consensus earnings and revenue estimates for the fourth consecutive quarter. Specifically, the company saw year over year gains in the following: revenues +12%, operating income +15%, net income +16%, and diluted earnings per share +17%. On a segment basis MSFT reported gains almost every group, but their big driver was cloud growth. In the quarter the company exceeded $20 billion in commercial cloud average rate of return (ARR), well ahead of their set goal two years ago. Commercial cloud revenues were up +56% year over year, and now accounts for 31% of revenues. Their Azure cloud computing service grew by +90% year over year, and was twice the growth rate of Amazon Web Services (AWS).
This positive news caused management to guide Q2 revenues just above the street consensus, and kept EPS expectations in line with previous estimates. Further, management recently increased their dividend payment by +8% to $0.42 per share. This brings their annual dividend payment to $1.68 per share for a dividend yield of +2.0%.
Microsoft also just released their newest console, Xbox One X which supports 4K video, has 8 million pixels, and offers a high-dynamic range (HDR). This launch is an example of the company investing more money and time into their gaming business. MSFT is also looking to increase revenues via total subscriptions, games, and service sales for the Xbox One X. While we will have to wait a little bit to see how successful the new console sales are, if the lines outside the doors are any indications, it should be a hit.
As you can see in the Price and Earnings Consensus graph below, the stock price has been on a very good run for the past four quarters, and consensus annual earnings estimates have been rising as well.
Microsoft Corporation Price and Consensus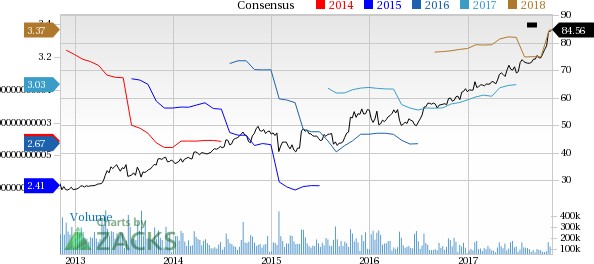 Microsoft Corporation Price and Consensus | Microsoft Corporation Quote
Our second pick is Intel Corp (INTC), a Zacks Rank #1 (Strong Buy), who also recently reported earnings where they crushed both the top and bottom line expectations. The company reported record operating income (+15% YoY), and earnings per share (EPS) (+36% YoY). Specifically, the data center, Internet of Things (IoT), and memory businesses all achieved record revenues. Management commented that the estimate beats were driven by "strong data-centric growth, expanding operating margins, and gains in the sale of equity investments." INTC has also been moving from being a PC-centric to a data-centric company. They have been accomplishing this goal via acquisitions, and organically.
The company also just completed their acquisition of Mobileye, four months ahead of schedule. Mobileye develops computer vision and machine learning, for sophisticated driver assistance systems, and autonomous driving. Management views this new addition as, "an exciting engineering challenge and a huge growth opportunity for Intel."
One of Intel's main competitors in the autonomous driving segment is Nvidia, but this is not the only area in which INTC is attacking this processor company. Intel also recently made headlines with the announcement that they and AMD have agreed to partner on a PC chip to take on the gaming graphics chip maker Nvidia. The partners are expected to announce a notebook computer semiconductor that utilizes a graphic chip from AMD, and a processor from Intel. This combination is expected to be able to run powerful video games via a lightweight laptop.
The Price and Earnings Consensus graph below shows the recent upswing of Intel, and the corresponding rising consensus earnings estimates.
Intel Corporation Price and Consensus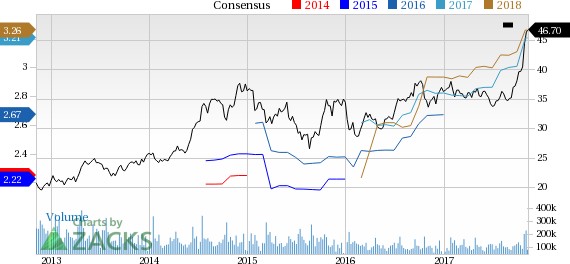 Intel Corporation Price and Consensus | Intel Corporation Quote
To add to the positive news, management also increased both their earnings and revenue expectations for Q4. Revenues were raised from $15.7 billion to $16.1 billion, and EPS was lifted from $0.80 to $1.01. As for the dividend, Intel pays an annual dividend of $1.09 for a yield of +2.33%.
Today's Stocks from Zacks' Hottest Strategies

It's hard to believe, even for us at Zacks. But while the market gained +18.8% from 2016 - Q1 2017, our top stock-picking screens have returned +157.0%, +128.0%, +97.8%, +94.7%, and +90.2% respectively.

And this outperformance has not just been a recent phenomenon. Over the years it has been remarkably consistent. From 2000 - Q1 2017, the composite yearly average gain for these strategies has beaten the market more than 11X over. Maybe even more remarkable is the fact that we're willing to share their latest stocks with you without cost or obligation.

See Them Free>>
Want the latest recommendations from Zacks Investment Research? Today, you can download 7 Best Stocks for the Next 30 Days.
Click to get this free report
Microsoft Corporation (MSFT): Free Stock Analysis Report
Intel Corporation (INTC): Free Stock Analysis Report
To read this article on Zacks.com click here.
Zacks Investment Research