Wayfair Is The Most Mispriced Stock Citron Research Has Seen In Years - Fair Value Under $10 by Citron Research
Citron Exposes Wayfair's Admission of the Fatal Flaw in their Business!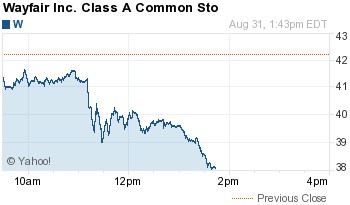 Wayfair makes Citron feel like apologizing to every company we have written about in the past 5 years. Compared to Wayfair, (NYSE:W) ... you all have viable business models. Any analyst who defends this stock is clueless about furniture retailing and even more clueless about e-commerce.
First, it must be appreciated that Wayfair is not a battleground stock.
Shake Shack, FitBit, Tesla, Ambarella and GoPro Inc (NASDAQ:GPRO): Each of these stocks has passionate bulls and bears of equal conviction. While each of these stocks still sells at nosebleed multiples, each has a disruptive, cult like, or blue-sky prospect, which longs and shorts will continue to debate.
Wayfair is not a Battleground! There is no bull case whatsoever and Citron will prove it. As we have previously tweeted, Citron admired the work of the Friendly Bear published last week on Seeking Alpha explaining why Wayfair's current business is in the doghouse:
http://seekingalpha.com/article/3443236-dont-get-zulilyd-by-...
While acknowledging Friendly Bear's piece, Citron elaborates on the real context of Wayfair's actual business prospects, predicting that its stock will soon end up in single digits. We will defer to the Friendly Bear for all relevant information about Wayfair's dangerously high customer acquisition costs.
Meanwhile, for longs, a challenge: Finish this sentence:
Wayfair is the next __________________________??? Exactly.
It's Overstock!!
First we would like to stress the obvious, which everyone except the company and the analysts will admit. Wayfair is Overstock, plain and simple. The only difference is that Overstock has better brand recognition and higher traffic. 74% of all Overstock sales are furniture and home goods. Here is a quick comparison of the two companies:
What is more amazing is that in Wayfair's analyst report from Evercore...
More