Apple stock is lower in the premarket, bucking the overall futures trend, following a report from Digitimes according to which Apple may delay the launch of its next-generation iPhone to October or even November, instead of September as usual, citing a Chinese-language Economic Daily News (EDN) report.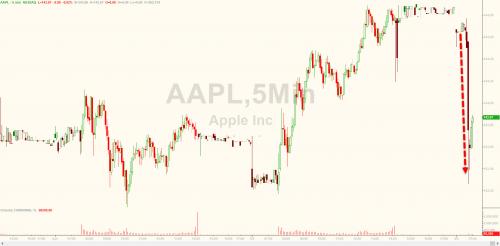 As reason for the delay, EDN cites technical issues related to the lamination process of curved OLED panels, and the adoption of a 3D sensing system.
Market sources said that they are watching the pull-in of orders for passive components from the iPhone's supply chain to see whether production of the new iPhone devices is on track, said the paper, adding that the supply chain should begin to pull in orders for passive components such as MLCCs in June.
Major suppliers included in the iPhone supply chain include TSMC, Foxconn Electronics, Pegatron Technology, Wistron, Advanced Semiconductor Engineering (ASE), Largan Precision, Cyntec and Yageo
Meanwhile, as Reuters reports, Apple's decision to stop licensing graphics chips from Imagination Technologies Group, which sent the stock crashing over 60% this week, is the clearest example yet of the iPhone maker's determination to take greater control of the core technologies in its products - both to guard its hefty margins and to position it for future innovations, especially in so-called augmented reality.
The strategy has already reduced Apple's dependence on critical outside suppliers like ARM Holdings Plc, now owned by SoftBank Group Corp. Apple once relied heavily on ARM to design the main processor for the iPhone, but it now licenses only the basic ARM architecture and designs most of the chip itself.  More recently, when Apple bought the headphone company Beats Electronics, part of a $3 billion deal in 2014, it ripped out the existing, off-the-shelf communications chips and replaced them with its own custom-designed W1 Bluetooth chip.
"Apple clearly got rid of all the conventional suppliers and replaced about five chips with one," said Jim Morrison, vice president of TechInsights, a firm that examines the chips inside electronics devices.
"Today we do much more in-house development of fundamental technologies than we used to," Apple Chief Financial Officer Luca Maestri said at a February conference. "Think of the work we do on processors or sensors. We can push the envelope on innovation. We have better control over timing, over cost and over quality."
Most vendors of consumer electronics products rely on outside suppliers for chip design and development, primarily because it is extremely expensive. That has created huge opportunities for companies like ARM, Qualcomm Inc (QCOM.O) and Nvidia Corp (NVDA.O), which have developed core technologies for processing, communications and graphics that are used by scores of vendors.
Now, though, Apple is so big that it can economically create its own designs, or license small pieces of others' work and build on it. As with ARM and Qualcomm, the actual manufacturing of the chips is still contracted out to a semiconductor foundry, such as those run by Samsung Electronics and Taiwan Semiconductor Manufacturing Co Ltd.
For investors this leaves a binary quandary: will Apple acquire its key vendors, or will it simply abandon them, proceeding with inhouse development instead.