The last time we looked at Chinese stocks, just a few hours ago, they were down 2%, and on pace to close back under 3000, following the latest collapse in official Chinese trade data (so one can imagine what the real data was), where in August exports dropped 5.5% (vs -8.3% in July) while imports tumbled -13.8% in dollar terms (worse than the -8.1% prior). As the Reuters chart below shows, this was the 10th month in a row of declines and the worst stretch since the 2008 crisis, confirming China will need far more currency devaluation to stabilize the trade pain.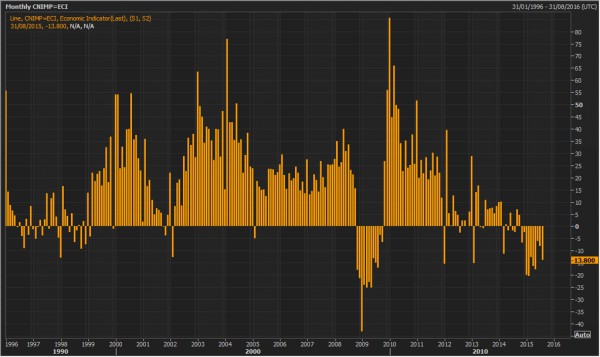 The terrible Chinese trade data was enough to initially push not only Chinese, but Asian stocks broadly lower, and served to slam the USDJPY back under 119 on the heels of another ugly Japan GDP report which rose only due to another surge in inventory accumulation even as capital spending dropped, which in turn pushed the Nikkei to a -2.4% close (despite a flash smash 400 points higher at the open), wiping out all Japanese stock gains for 2015.
That was quick -> just like that, Nikkei 225 closes -433 points (-2.4%); erasing all of its gains in 2015.

https://twitter.com/hashtag/Markets?src=hash

pic.twitter.com/Gwe5jq2trx

— David Ingles (@DavidInglesTV)

https://twitter.com/DavidInglesTV/status/641130524069638144
And then Chinese authorities intervened with gusto, having learned from the mistake of its Monday intervention where it stepped in early in the session only to see all gains fizzle throughtout the day, this time the PBOC and various other state banks waited until the afternoon session, at which point a massive buying orgy ensued, and pushed the SHCOMP from down more than 2% to close at the day highs, up some 2.9%!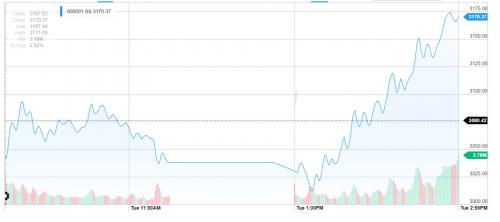 At the same time that China was buying stocks, its banks were intervening in FX and the newswires blasted that dealers reported big USD sales by Industrial and Commercial Bank of China and CITIC Bank in the final hour of trading.
The Chinese intervention in both equities and FX was in turn tracked by the USDJPY, and perhaps the BOJ, which sent the critical carry pair from below 119 over 100 pips higher in the span of an hour, pushing the USDJPY over 120 by the time Europe opened...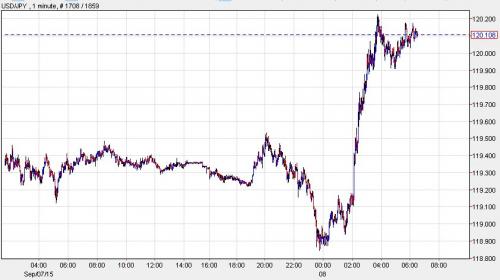 ... and in turn dragged both the Dow Jones futures higher by 300 points while the S&P was up 2% at last check. Just because global trade is slowing down so much, China had no choice but to take out the big guns and get the first bazooka effect after 4 days of trying... and failing.
The waterfall from China's intervention sent not only European equities and US futures higher, but helped Brent halt its two day selloff to lowest settlement since Aug. 27 while WTI traded above $45 before return of U.S. traders following Labor Day holiday. Ole Hansen, Saxo Bank head of commodity strategy commented that "we are stabilizing a bit, although there has not really been much to cheer about from a news perspective," adding that "Russia saying 'no thanks' to cutting output, loading from the Atlantic looks like rising to 2-3 year high, China imports falling in August - so both increasing supply and slowing demand."
In the new normal this appears to be bullish for oil, and when central banks are intervening, supply and demand are irrelevant. 
Taking a closer look at Asian equities, the Nikkei 225 (-2.4%) as reported above, initially led the region lower after GDP final readings confirmed the economy contracted albeit at a slower than expected pace, before Chinese equities rose out of negative territory in the hours before the close to finish firmly in the green , with Shanghai Comp. (+2.9%) and Hang Seng (+3.6%) spending the session swinging between gains and losses following discouraging trade figures where both imports and exports continued to contract. ASX 200 (+1.7%) spent the day in positive territory led by the energy sector, following M&A flow for the index. Finally, JGBs traded in positive territory as stocks began to soften, this move also came in the context of a mixed 30yr JGB auction which saw a lower than prey. b/c and a narrower than previous tail.
Stocks in Europe traded have higher since the get-go (Euro Stoxx: +1.7%), with market participants shrugging off the release of the uninspiring trade balance data from China and instead focusing on M&A related flow. The less than impressive data from China came as no surprise and will likely reinforce the view that the PBOC and fellow government officials will continue to keep liquidity ample. The upside was led by financials sector in reaction to the takeover of Amlin by Mitsui Sumitomo.
 
Firmer stocks resulted in lackluster performance by Bunds, which traded lower, albeit marginally, with the downside likely propped up by the dovish stance by the ECB . At the same time, despite the upside in stocks, peripheral bond yield spreads were mixed, with 2y sector broadly wider, highlighting the cautious nature of the rally.
FX translation stemming from M&A related flow supported GBP, which outperformed its major peers, while EUR/GBP edged below 0.7300 level which is said to make up to USD 1bIn worth of expiring strikes . While the USD (USD-index: -0.2%) heads into the North American crossover in negative territory, weighed on by the aforementioned GBP strength and strength in EUR after the long US Labor Day weekend.
Elsewhere, despite the ongoing weakness in energy complex, AUD traded firmer and benefited from the ongoing upside in copper prices which is a by-product of the announcement by Glencore yesterday which would remove 400,000 tonnes of copper from the market, while the likes of CAD and NZD also head into the US session stronger against the USD.
Commodities have seen some strength overnight on the back of a slightly weaker dollar, with gold trading in the green. Copper has also continued in the same trend as yesterday, gaining on the back of the aforementioned Glencore news. The energy complex has also seen strength today on the back of comments from the Iranian Oil minister, who said they were prepared to take any measures necessary to improve the oil market.
In Summary: Europe's Stoxx 600 rises 2% as of 12:05pm CET time, with gains accelerating following data that showed euro-area economy grew more than estimated in 2Q. European GDP rose 0.4% after expanding a revised 0.5% in 1Q.  Shanghai Composite Index rises 2.9%; 1st gain in 5 sessions. China exports slide as tepid demand adds to growth challenge. Maersk Line Cuts Capacity by 16% on West Central Asia to Europe. The US econ calendar is virtually empty: we get NFIB small business conditions (95.9 vs Exp. 96.0), also labour market conditions index and consumer credit data. Kocherlakota speaks after the closing bell.
Market Wrap:
DAX +2.3%; Shanghai Composite +2.9%; Nikkei 225 -2.4%, erases 2015 gain
LME 3m Copper +2.3%
Euro spot -0.1% at 1.1158, yen spot -0.7%
V2X -9.9% at 31.6
S&P 500 futures +2% at 1959.3
For detailed market snapshot, click here
Indexes: FTSE 100 up 1.7%, CAC 40 up 2%, DAX up 2.3%, IBEX 35 up 1.6%, FTSE MIB up 2.1%, Euro Stoxx 50 up 2.1%
All of 19 Stoxx 600 sectors rise; autos the top gainer, up 3%; insurance up 2.3%, boosted by MS&AD takeover of Amlin
Bulletin headline summary from Bloomberg and RanSquawk
Stocks in Europe traded higher since the get-go, with market participants shrugging off the release of the uninspiring trade balance data from China and instead focusing on M&A related flow
FX translation stemming from M&A related flow supported GBP, which outperformed its major peers, while EUR/GBP edged below 0.7300 handle
There is little in terms of tier 1data, with market participants likely focusing on any monetary policy related comments by Fed's Kocherlakota due after the closing bell on Wall Street as well as the USD 24b1n note auction
Treasuries decline before expected post-holiday resumption of U.S. investment-grade issuance, $24b 3Y auction; WI yield 1.045% vs. 1.013% in August.
Shanghai stocks climbed in late trading, a pattern consistent with state intervention, leading most global equities higher despite trade data showing China's exports fell last month
China exports fell 5.5% in August, slightly above the median forecast of 6.6% decline in Bloomberg survey; imports fell 13.8%, leaving a trade surplus of $60.2b
Japanese GDP shrank 1.2% in 2Q, less than expected, thanks to a buildup in inventories; businesses reduced investment more than first estimated, in a rebuff to Abe's call for firms to deploy record cash holdings and profits into capex
Euro-area GDP rose 0.4% in 2Q, est. 0.3%, after expanding a revised 0.5% in 1Q, the EU's statistics office in Luxembourg said Tuesday
Europe's diverging approaches to the refugee crisis came into focus on Tuesday, with Germany vowing to prioritize funding to aid migrants and Hungary promising to speed up work on a barrier to keep them out
Sovereign 10Y bond yields mixed. Asian and European stocks gain, U.S. equity-index futures decline. Crude oil mixed, with Brent higher, WTI lower; gold and copper gain
US Event Calendar
6:00am: NFIB Small Business Optimism, Aug., est. 96.0 (prior 95.4)
10:00am: Labor Market Conditions Index Change, Aug., est. 1.6 (prior 1.1)
1:00pm: U.S. to sell $24b 3Y notes
3:00pm: Consumer Credit, July, est. $18.5b (prior $20.74b)
5:15pm: Fed's Kocherlakota speaks in Evanston, Ill.
DB's Jim Reid completes the market wrap in his own words:
It's straight to China this morning where the latest trade numbers are out. Export numbers continue to remain soft, falling -5.5% yoy in US$ terms in August, although better than the -6.6% yoy expected drop and improving from an -8.3% yoy fall in July. Imports have declined significantly however, falling -13.8% yoy (in US$ terms) after expectations for a fall of -7.9%. That's seen a surge in China's surplus, rising $17bn to $60.2bn (vs. $48bn expected). The numbers in Yuan terms are similar, with exports down 6.1% and imports down 14.3%. Chinese equity markets have fallen into the midday break, with the Shanghai Comp down -1.38% and CSI 300 down -1.60%.
This morning's release is also hot on the heels of the much anticipated foreign reserves data from the PBoC yesterday, with the decline coming in larger than expected. Reserves fell last month by $94bn (vs. $71bn expected) to $3.557tn. In absolute terms that represented the largest fall on record, while the -2.6% decline was the largest percentage fall in more than three years. Much of the commentary has suggested that taking account of valuation adjustments, the drop could well have been over $100bn. As we mentioned yesterday, this data is likely to become a closely watched monthly release with the QT debate now starting to move into focus.
Markets elsewhere this morning are fairly mixed. In Japan the Nikkei (-1.55%) and Topix (-1.12%) have both declined despite an upward revision to Japan's Q2 GDP reading, revised up one-tenth to -0.3% qoq after expectations of a fall to -0.5%. Elsewhere it's been a better start for the ASX (+0.77%), however the Hang Seng (-0.12%) and Kospi (-0.66%) are both lower. S&P 500 futures are pointing to a reasonable start, up half a percent while Treasury yields are more or less unchanged.
Taking a look back at markets yesterday now. With the US out is was unsurprisingly a fairly quiet day although European equities started the week on a firmer footing, seemingly helped by the comments from the PBoC Governor over the weekend and also a boost from mining stocks after Glencore's announcement of a bumper debt reduction plan. Indeed the Stoxx 600 finished the session up +0.48%, although it did pare a stronger opening. The same of which was true for the DAX (+0.70%) and CAC (+0.59%). Gains were fairly broad-based across sectors, but energy stocks proved to be the exception after another decent leg lower for Brent (-3.99%) following suggestions that a Russian official has ruled out cooperation with OPEC on cuts in production. It was a weaker session for Gold (-0.22%) too although Copper (+0.55%) benefited from the Glencore news with copper production set to be suspended as part of the company's plans.
There was little to report in fixed income markets yesterday. The Euro (+0.19%) saw some modest gains while Bund yields finished more or less unchanged. That was after a data-light calendar with just a weaker than expected German industrial production print for July (+0.7% mom vs. +1.1% expected) – although an upward revision to June gave our colleagues in Europe confidence that the production numbers are supportive of their +0.4% qoq Q3 GDP forecast.
Elsewhere, the latest ECB asset purchases data was released yesterday for the month of August. The data showed that last month saw the lowest level of purchases since the start of the program, with just €42.8bn of public sector purchases which compares to over €51bn we saw in each of the previous two months. Our colleagues note that this August slowdown in buying now moves the ECB's total purchases across PSPP, covered bonds and ABS back in line after 'frontloading' through May, June and July. Looking ahead to September, therefore, this reduces any need to moderate purchase further and so limits concerns of any 'backloading' highlighted by Coeure back in March.
Staying in Europe, Spain was the subject of some underperformance yesterday with the IBEX (-0.17%) one of the few equity markets to suffer a decline, while 10y Spanish bond yields widened nearly 7bps with the yield premium (+25bps) over similar maturity BTP's now the widest in two years. That weakness is being attributed to the release of stronger new opinion polls for the Catalan pro-independence parties on Sunday which showed momentum turning in their favour. As DB's Marco Stringa noted yesterday, the polls suggest that if they were able to join forces in the Catalan parliament, then they would have the majority of the seats. This is important given that they argue that this would be sufficient to declare a victory in the de-facto referendum for independence regardless of the share of votes. Marco continues to believe that to build a strong case, the pro-independence parties would need to obtain 50%+1 of the votes rather than the seats. That said, he notes that this gap has been closed quickly and that in any case the pro-independence camp, however, seem satisfied with a lower hurdle. With the Catalan elections due September 27th, it's a situation worth watching closely and another important date for our diaries.
Taking a look at the day ahead now. It's set to be a busier morning in Europe for data today with Euro area Q2 GDP and German and French trade data all due. On the back of the usual post payrolls lull in the US, there's just the NFIB small business optimism reading, labour market conditions index and consumer credit print out across the pond this afternoon. The Fed's Kocherlakota will be due to speak later this evening meanwhile.