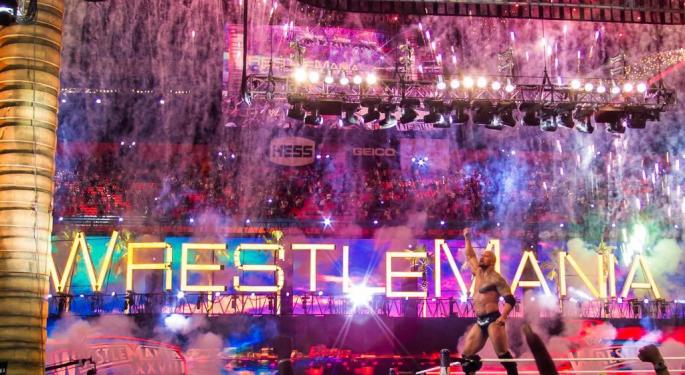 World Wrestling Entertainment, Inc. WWE 1.07% may not be filing stadiums as full as they would like shareholders to believe. At least, that is what Chris Harrington and Brandon Howard of Indeed Wrestling are claiming.
Last Friday, Harrington tweeted the following graph highlighting the difference between WWE's Wrestlemania attendance as reported in post-event press releases and to the numbers reported in official financial filings.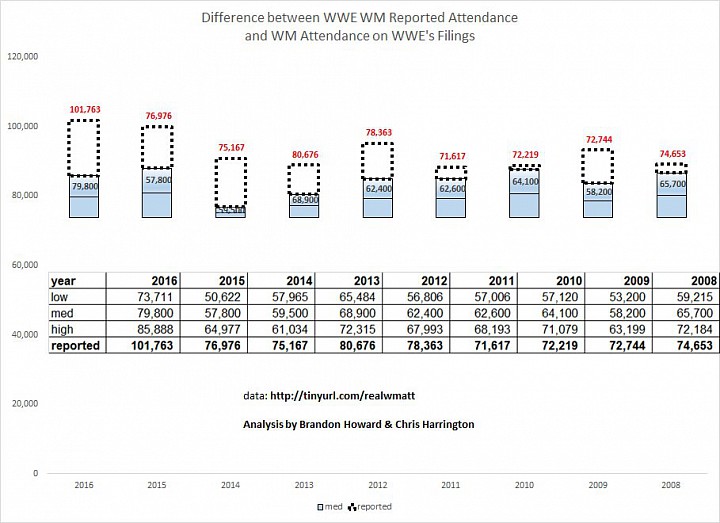 When one poster asked if WWE was really giving away 10,000-20,000 tickets just to break attendance records, Harrington replied, "Yes. They just claim it and don't bother with the comps."
To look at how Harrington and Howard calculated these numbers, click here.
If Harrington's accusations are true, WWE's claims that Wrestlemania 32 in Arlington, Texas, broke the Wrestlemania attendance record with 101,763 attendees is a bit misleading.
A WWE spokesperson told Benzinga the company's KPI references paid attendance, "but doesn't include things such as suites sales."
Last week, WWE reported record Q2 revenue of $199.0 million, up 32 percent year-over-year. In addition, WWE Network paid subscriptions reached 1.52 million, up 25 percent year-over-year. Net income fell from $5.1 million to $0.8 million.
WWE's stock was down 1.7 percent to close Monday at $19.40. The stock is up about 9 percent in 2016.
Disclosure: the author holds no position in the stocks mentioned.
© 2016 Benzinga.com. Benzinga does not provide investment advice. All rights reserved.