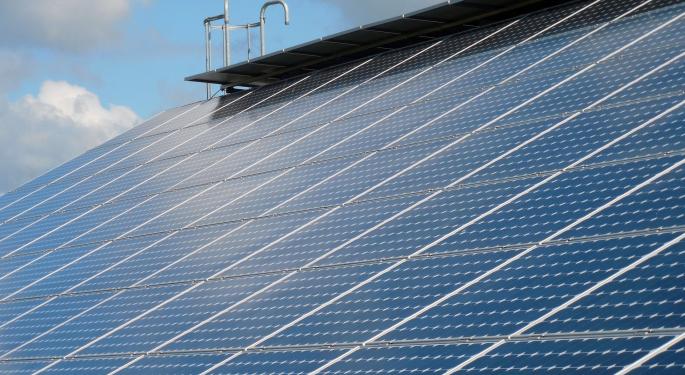 Paul Coster, an alternative energy analyst with JPMorgan, still expects the SolarCity Corp SCTY 7.72% merger with Tesla Motors Inc TSLA 2.84% to proceed as planned but if the deal falls through, SolarCity will face higher discount rates for future capital raises and a "compromising" growth prospect.
In a report published Monday, Coster felt it prudent to revise his 2017 estimates for SolarCity. Specifically, the analyst is assuming SolarCity's discount rate increases by 100 basis points without an acquisition; this would weigh on its NPV/w and growth.
Coster lowered his fiscal 2017 MW additions to 996, which is up 6 percent year-over-year but doesn't compare favorably to his prior estimate of 1,152. The analyst's year-end 2017 pretax unlevered NPV remaining for the PowreCo was also reduced to $6.2 billion from $6.8 billion.
Coster cautioned that it's "reasonable to assume" MW installations could slow even further as the company's discount rate increases, which would drag down SolarCity's stock price even further as a standalone entity.
Coster also lowered his price target on SolarCity's stock (Neutral rated) as a standalone company to $21 from a previous $25, although a fundamental analysis yields an even lower valuation of $19 per share.
Bottom line, Coster suggested investors remain on the sidelines in the event that the SolarCity-Tesla deal falls through and the discount rate for SolarCity's new MW rises above expectations.
| Date | Firm | Action | From | To |
| --- | --- | --- | --- | --- |
| Aug 2016 | Raymond James | Downgrades | Strong Buy | Market Perform |
| Aug 2016 | Baird | Downgrades | Outperform | Neutral |
| Aug 2016 | Guggenheim Securities | Downgrades | Buy | Neutral |
© 2016 Benzinga.com. Benzinga does not provide investment advice. All rights reserved.