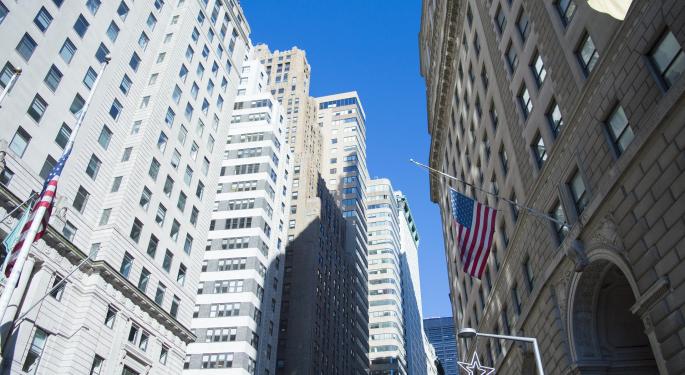 The major U.S. equity averages meandered lower throughout Wednesday's session but managed to finish off of the worst levels of the day. By the close, the equity market had recorded moderate losses.
Among the names rising on Wednesday were Yelp Inc YELP 12.84%, which was trading up around 13 percent near the close after reporting strong earnings and retailer Ralph Lauren Corp RL 8.49%, up 9 percent after its earnings release. Myriad Genetics, Inc. MYGN 33.13% plunged around 33 percent after reporting disappointing earnings and a tepid outlook. SunPower Corporation SPWR 30.24% had shed almost 30 percent near the close of equities after the company slashed its guidance.
Major Averages
The Dow Jones Industrial Average fell 37 points, or 0.20 percent, to close at 18,496.
The S&P 500 declined 6 points, or 0.29 percent, to finish at 2,175.
The Nasdaq shed 21 points on the session and closed at 5,205. All three of these equity averages remain near all-time high levels.
Commodities
The commodity complex was lower on Wednesday with the Bloomberg Commodity Index falling 0.62 percent.
NYMEX crude oil futures shed more than 3 percent to $41.46 while Brent contracts were down 2.49 percent to $43.86. Natural gas futures lost 1.91 percent during Wednesday's trading session to $2.57.
Precious metals were higher mid-week. COMEX gold futures climbed 0.45 percent to $1,352.70. The SPDR Gold Trust ETF GLD 0.47% rose 0.47 percent to close the equity session at $128.56. Silver contracts rose 1.61 percent to $20.17 on the day. The iShares Silver Trust ETF SLV 1.54% climbed 1.54 percent to finish at $19.16.
In the grains complex, corn and wheat were both higher on the session. Corn contracts added 0.15 percent to $3.3300 and wheat futures added 1.14 percent to $4.2175.
Bonds
Treasury prices were moderately higher on Wednesday. At the close of equities, the iShares Barclays 20+ Year Treasury Bond ETF TLT 0.39% had added 0.39 percent to $140.16.
Treasury yields were as follows on Wednesday afternoon: The yield on the 2-Year Note was 0.71 percent. The 5-Year Note was yielding 1.11 percent. The 10-Year Note was last yielding 1.55 percent while the 30-Year Bond yield was 2.25 percent.
Currencies
The U.S. Dollar was moderately lower on Wednesday. The PowerShares DB US Dollar Index Bullish ETF UUP 0.52%, which tracks the performance of the greenback versus a basket of foreign currencies, traded down 0.52 percent to $24.72. The closely watched EUR/USD pair rose 0.51 percent to 1.1174 euros.
Volatility and Volume
The modest market declines caused the CBOE Volatility Index (VIX) to climb on the session. At last check, the VIX had added 4.29 percent to 12.16, which is still near the bottom of its 52-week range.
Volume remained light on Wednesday as much of Wall Street is on vacation. Around 50 million SPDR S&P 500 ETF SPY 0.25% shares traded hands versus a 3-month daily average of just over 94 million shares. Trading in the PowerShares QQQ Trust QQQ 0.26%, which tracks the Nasdaq 100, was also below average with just 14 million shares being traded compared to a 3-month daily average above 23 million.
© 2016 Benzinga.com. Benzinga does not provide investment advice. All rights reserved.