Virtual currencies bitcoin and litecoin surged last week in an explosion of volatility. This followed a period of relatively low volatility consolidation. 

Bitcoin (BTCUSD) Daily Chart 11/8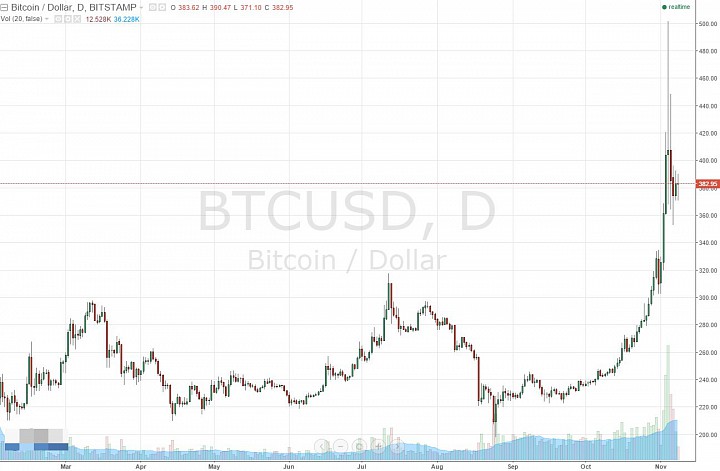 (click to enlarge)
Bitcoin shot up from lows around 200 to 500 from the end of August to last week (beginning of November). The daily chart shows the acceleration at the end of October in to early November. This rally in bitcoin broke a range that had resistance around 300-320. Now if price comes back to this area look for support. I don't think bitcoin is done tagging the 500 level, though we might want to limit any bullish outlook for now to this psychological level that provided resistance against the recent surge. 

Litecoin also had a sharp rally, but had a deep retracement afterwards.

Litecoin (LTCUSD) Daily Chart 11/8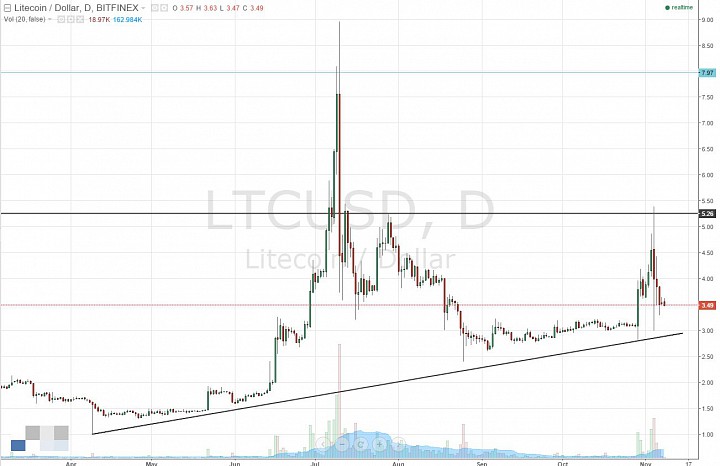 (click to enlarge)

Litecoin's sharp rally was not as strong as the one in June-July. We have to go back to that price action first. That rally almost to 9.00 was a bullish breakout from a previous consolidation. Then after price retreated, litecoin held above 2.50 and respected a previous consolidation. It then consolidated around 3.00 until the end of October when it broke higher again. 

Now, we have a July breakout, a confirmation of price bottom, a formation of another price bottom, and now another bullish breakout. After the breakout pushed to about 5.30, it retreated again and is now trading around 3.50. 

We know the market cycles between periods of volatility and doldrums. Right now, we are in a choppy market. But throughout 2015, we seem to be building a slight bullish bias. Therefore, if price chops away and tags 3.00, I would anticipate support with upside risk towards 5.30 again. The market already showed support around 3.00, but price action suggests litecoin might test this area again. If price can hold above 3.00, we can still say that litecoin is bullish.