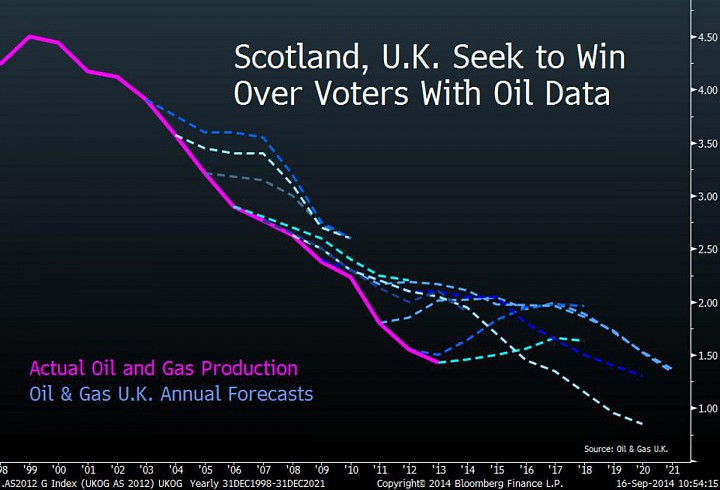 Scottish government estimates of the oil income an independentScotland would receive are based on figures from an industry lobby whose projections in past years have proven optimistic.
The CHART OF THE DAY shows actual oil and gas production in the North Sea, marked in pink, has fallen more sharply than the annual projections by the Oil & Gas U.K. lobby, in shades of blue. The industry group provided figures for 2011 through 2014, while the years back to 2004 were read off charts published in its annual Activity Surveys and Economic Reports. The latest survey is on target with output so far this year, it said.
The pro-independence Scottish administration and pro-union U.K. government are trying to win over voters in tomorrow's referendum with rival claims on how much oil will be produced and how much tax it will deliver. Scotland used the industry estimate of a 14 percent jump in output for 2013-18 in its Outlook for Scotland's Public Finances and the Opportunities of Independence published in May. The U.K. Department of Energy says operators' tendency to "over-predict" means it adjusted their numbers lower to show extraction will be almost flat.
The Scottish side, in its Oil and Gas Analytical Bulletin, says tax revenue has been temporarily depressed in recent years by high levels of investment and falling output that reflects unplanned stoppages as well as long-term declines. It has also accused the U.K. of creating an unstable tax regime. The Office of Budget Responsibility, set up by the U.K. as an independent body to report on public finances, assumes output in its main scenario will fall 5 percent a year from 2019. Oil and Gas U.K. and the Scottish government don't have such long-term estimates.
"It's fair to point out that U.K. tax policy has certainly not encouraged acceleration of drilling," Raymond James energy analyst Pavel Molchanov said in a Sept. 15 note. Still, "it's unreasonable to blame the U.K. government for the fact that the country's oil production has peaked -- no one can argue with geology." The 74 percent drop in output from a 1999 peak to 2014 estimates is the worst of any major producer, he said.
The Scottish administration used a range of sources to show potential scenarios for North Sea revenues consistent with other oil and gas expert opinions, a spokesperson for the government said in an e-mailed statement. The U.K. department of energy studies historical trends and industry projections to determine its forecasts, while acknowledging uncertainties by offering a span of estimates, a ministry spokesman said.