Amazon (NASDAQ: AMZN) may have failed in its attempt to launch a smartphone, and its tablets may be struggling for market share, but the company's set-top streaming box has been a clear success.
Fire TV and Fire TV Stick pushed the company into the third spot in the top four selling brands in the United States in 2014, which account for 86% of all digital streaming players, according to research from Parks Associates. That's even more impressive when you consider that the original Fire TV box was not introduced until April 2014, and the Stick didn't hit the market until November of that year.
"Roku continues to lead streaming media device sales in the U.S. with 34% of units sold in 2014. Google is second with 23%, and new entrant Amazon overtook Apple for third place," said Barbara Kraus, Director of Research at Parks Associates. "The market consolidation around these four brands forces new entrants to develop more creative features and functionality to tap into the strong consumer demand for streaming content. "
The intense competition has also forced Amazon to update both Fire TV platforms with new features in order to keep pace with rivals -- specifically the new Apple TV.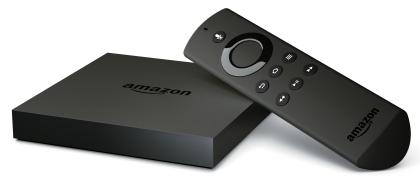 I see your Siri and raise you an Alexa
The most notable new feature on the improved Fire TV box, which is also offered on some versions of the Fire TV stick, is improved voice search powered by Alexa. The original Fire TV -- which I own and use on my main living room television -- has a pretty robust voice search that works well. The new, improved system, however, is smarter, and it offers a number of perks like being able to deliver weather forecasts and sports scores.
The company explained how the new technology, which is being used to power its Echo wireless speaker/smart device, will improve the voice search experience in a press release:
With Alexa, Fire TV voice capabilities become even better -- simply speak into the voice remote and ask Alexa for the weather, sports scores, traffic, music, and more. Alexa provides natural-language responses, combined with an immersive on-screen display, each time you ask a question on Amazon Fire TV. Just say "Alexa, play some jazz" to listen to your favorite music and simultaneously view album art, song title, and more via the on-screen experience. Say "Alexa, when do the Seahawks play?" to find out when the next game is on, or say "Alexa, how's the weather tomorrow?" to see if you need to bring your umbrella and simultaneously view the five-day forecast on your big screen TV.
Like Siri, Alexa (which I have tested extensively on an Echo) has its faults, but it's a largely useful tool that brings some neat, albeit not entirely needed features to Fire TV.
More than just...
More