The share price of Barclays PLC (ADR) BCS 2.42% has declined 16.08 percent over the past three months, touching a low of $13.61 on November 13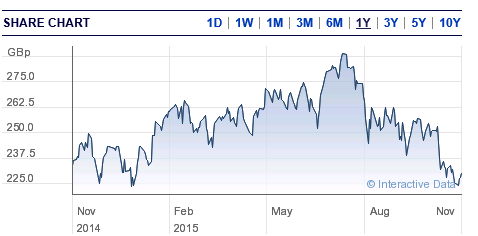 Analyst Chris Manners sees the company "as the most challenged with respect to our cautious stance on the increasingly tough capital regime for the UK banks."
According to the Morgan Stanley report, "As the mix shifts towards PCB/Barclaycard and better cost discipline is shown in the IB, we think core returns can recover from c.8 percent in 2014."
Barclays PLC has agreed to pay $150 million to resolve an investigation by New York's banking regulator into a trading practice that allowed the bank to exploit a milliseconds-long lag between an order and its execution to its clients' detriment, the latest fallout from the bank's foreign-exchange market business.
Manners expects Barclays to build towards steady-state CET1 ratio of c.13.5 percent over time, as compared to the current less than 12 percent targeted by management, "as higher buffers combine with stress testing to constrain returns and dividends."
The earnings estimates for 2016-2018 has been reduced by 12-15 percent, to reflect lower revenues driven by a more constrained balance sheet, which in turn is due to the need to build toward higher capital thresholds.
The New York Department of Financial Services announced the settlement Wednesday, and singled out the bank's misuse of its "last look" system, which the regulator said allowed Barclay's a last-second veto of unprofitable trades.
The penalty is the latest to stem from Barclays' foreign-exchange trading, a line of business that, with today's settlement, has cost the British bank more than $2.5 billion in penalties. In May, Barclays pleaded guilty to conspiring to manipulate the foreign-exchange market and agreed to pay $2.4 billion to a handful of U.S. agencies, including DFS, which extracted a $485 million penalty at the time.
DFS on Wednesday also required the bank to fire its global head of electronic fixed income, currencies and commodities automated flow trading.