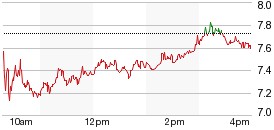 NEW YORK, July 12, 2016 (GLOBE NEWSWIRE) -- Anavex Life Sciences Corp. ("Anavex" or the "Company") (AVXL), a clinical-stage biopharmaceutical company developing differentiated therapeutics for the treatment of neurodegenerative and neurodevelopmental diseases including Alzheimer's disease, other central nervous system (CNS) diseases, pain and various types of cancer, today announced that data related to ANAVEX 2-73, the Company's lead product candidate, will be presented in two poster presentations at the upcoming Alzheimer's Association International Conference® 2016 (AAIC®) to be held from 24-28 July, 2016 in Toronto, Canada.
The poster presentations will feature data from the Company's ongoing Phase 2a clinical study in patients with mild-to-moderate Alzheimer's disease, highlighting ANAVEX 2-73 dose-response effect, Maximum Tolerated Dose (MTD) determination, as well as, 31 week safety, tolerability and exploratory efficacy assessment.
Presentation Details (#11011 and #12349):
Title: New Exploratory Alzheimer's Drug ANAVEX 2-73: Dose Dependent Clinical Cognitive Improvement Observed in Mini Mental State Examination (MMSE) and Other Cognitive Markers in a Phase 2a Study in Mild-to-Moderate Alzheimer's Patients
Date/Time: Sunday, July 24, 2016: 09:30 AM – 10:30...
More