Immune Design Corp. IMDZ is scheduled to report second-quarter 2017 results on Aug 2.
Last quarter, Immune Design pulled off a positive earnings surprise of 19.35%. TIn fact, the company has posted a positive surprise in three of the four trailing quarters bringing the average surprise to 7.61%. Let's see how things are shaping up for this announcement.
Notably, Immune Design's shares have skyrocketed 109.1% outperforming the Zacks classified industry's gain of 4.4%.

Factors at Play
Being a development-stage biopharmaceutical company, Immune Design has not generated any product revenues yet. It earns revenues from collaboration and licensing agreements and product sales.
Moreover, investors remain focused on the company's progress with its pipeline candidates. Immune Design is developing multiple candidates using its two discovery platforms – ZVex and GLAAS – for the treatment of various types of cancers. Key pipeline candidates include CMB305 (solid tumor) and G100 (merkel cell carcinoma (MCC)).
CMB305 has been designed under a prime-boost approach, involving the sequential dosing of two complementary agents – LV305 and G305. This candidate is being evaluated in soft tissue sarcoma (STS) patients both as monotherapy (phase I) and in combination with Roche Holding's RHHBY Tecentriq (phase II). It is to be noted that early data from the monotherapy phase I study were positive.
The safety profile in the monotherapy phase I study remained favorable with a consistent rate of NY-ESO-1-triggered T cell responses that appear stronger with CMB305.In addition, a randomized phase II study on CMB305, in combination with Tecentriq in comparison with Tecentriq alone, for locally advanced, relapsed or metastatic soft tissue sarcoma is currently underway. Data from the study is expected in 2017.
Meanwhile, G100, developed on the GLAAS platform, completed enrolment in a phase I study in patients with MCC in combination with radiation. Immune Design is collaborating with Merck to evaluate G100 in combination with its anti-PD-1 agent Keytruda, for the treatment of patients with non-Hodgkin's lymphoma (NHL). In February, the FDA granted Orphan Drug Designation to, G100, for the treatment of NHL.
The company completed a phase I study on G100 in patients with MCC. In addition, it has initiated a randomized phase II study evaluating the safety and efficacy of G100, in combination with low-dose local radiation and Keytruda, in patients with follicular non-Hodgkin's lymphoma (NHL). Data from the evaluation are expected in 2017.
During the earnings call, we expect Immune Design to shed light on its progress with these ongoing trials
What Our Model Indicates
Our proven model does not conclusively show an earnings beat for Immune Design this quarter. This is because a stock needs to have both a positive Earnings ESP and a Zacks Rank #1 (Strong Buy), 2 (Buy) or 3 (Hold) to be able to beat estimates. However, that is not the case here as you will see below.
Zacks ESP: Immune Design has an Earnings ESP of 0.0%. This is because – the Most Accurate estimate and the Zacks Consensus Estimate are pegged at a loss of 65 cents. You can uncover the best stocks to buy or sell before they're reported with our Earnings ESP Filter.
Zacks Rank: Immune Design has a Zacks Rank #2 which increases the predictive power of ESP. However, 0.00% ESP makes surprise prediction difficult for the quarter.
Note that we caution against Sell-rated stocks (Zacks Rank #4 or 5) going into the earnings announcement, especially when the company is seeing negative estimate revisions.
Immune Design Corp. Price and EPS Surprise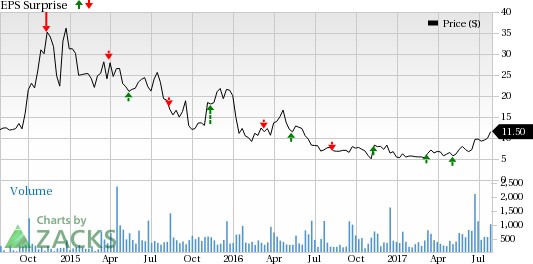 Immune Design Corp. Price and EPS Surprise | Immune Design Corp. Quote
Stocks to Consider

Here are healthcare companies that you may consider instead, as our model shows that they have the right combination of elements to post an earnings beat this quarter.
Pfizer Inc. PFE has an Earnings ESP of +1.54% and a Zacks Rank #3. The company is expected to release results on Aug 1. You can see the complete list of today's Zacks #1 Rank (Strong Buy) stocks here.
Tesaro, Inc. TSRO has an Earnings ESP of +16.40% and a Zacks Rank #3. The company is expected to release results on Aug 8.
More Stock News: 8 Companies Verge on Apple-Like Run Did you miss Apple's 9X stock explosion after they launched their iPhone in 2007? Now 2017 looks to be a pivotal year to get in on another emerging technology expected to rock the market. Demand could soar from almost nothing to $42 billion by 2025. Reports suggest it could save 10 million lives per decade which could in turn save $200 billion in U.S. healthcare costs. A bonus Zacks Special Report names this breakthrough and the 8 best stocks to exploit it. Like Apple in 2007, these companies are already strong and coiling for potential mega-gains. Click to see them right now >>
Want the latest recommendations from Zacks Investment Research? Today, you can download 7 Best Stocks for the Next 30 Days.
Click to get this free report
Roche Holding AG (RHHBY): Free Stock Analysis Report
Pfizer, Inc. (PFE): Free Stock Analysis Report
TESARO, Inc. (TSRO): Free Stock Analysis Report
Immune Design Corp. (IMDZ): Free Stock Analysis Report
To read this article on Zacks.com click here.