Android fans have reason for great excitement as Google has recently announced two new Nexus smartphones. The Nexus 5X and Nexus 6P are totally different in terms of size, design and performance, but both promise outstanding specifications and a unique smartphone experience. Certainly discerning Android consumers will already be wondering which one to purchase, so here is a comparison of the qualities of the two devices.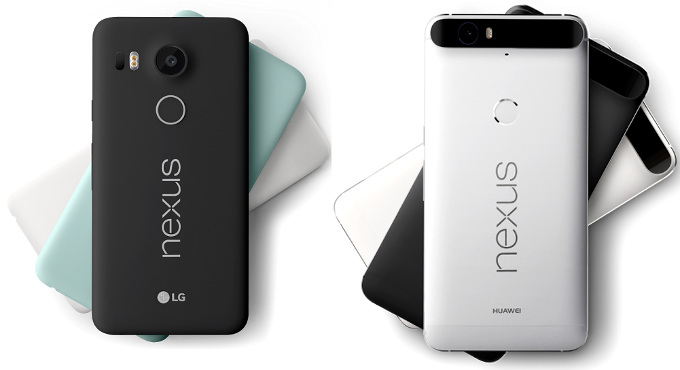 The first thing to note about the two handsets is that both will run off Android 6.0 Marshmallow. This latest Google Inc (NASDAQ:GOOG) operating system is considered to be an improvement over Lollipop and Android fans will already be itching to get their hands on this software.
Display
It is notable that both the Nexus 5X and Nexus 6P are large devices. This is not a huge surprise in itself, because the general trend in smartphones is seemingly for ever more hefty handsets. As technology moves towards 4K resolution and consuming media via smartphones on a larger scale, it is natural for screen sizes to increase in line with this.
So it is interesting to compare the Nexus 5X and Nexus 6P with the previous iterations in the Nexus series:
Nexus 5X – 5-inch, 1080p IPS LCD display, 147.0 x 72.6 x 7.9 mm and 136g
Nexus 6P – 5.7-inch, 2K AMOLED display, 159.4 x 77.8 x 7.3mm and 178g
Nexus 5 – 5-inch, 1080p IPS LCD display, 137.9 x 69.2 x 8.6mm and 130g
Nexus 6 – 6-inch, 2K AMOLED display, 159.2 x 82.3 x 10mm and 184g
Certainly the discerning Android customer wanting the best screen quality possible will opt for the Nexus 6P. But the question of which mobile to opt for isn't actually that simple.
Design
The design of the two new smartphones divert significantly in design terms. The Nexus 5X has retained the molded plastic finish of the Nexus 5, but the Nexus 6P has significantly broken with Nexus tradition. This is the first aluminum Nexus handset that Google has released, and the attractively crafted body has already prompted a strong response from critics. There is also a black bar that houses the camera, NFC and antennas, and although this has not met with universal approval, it nonetheless provides character to the design of the device.
Nexus 5X features a curved plastic body and visible seams, and is less obviously distinctive, but...
More