Philip Morris INTL $PM has been in a sharp correction since it tagged 123.50 back in June this year. The weekly chart shows that the correction accelerated in recent weeks.

PM Weekly Chart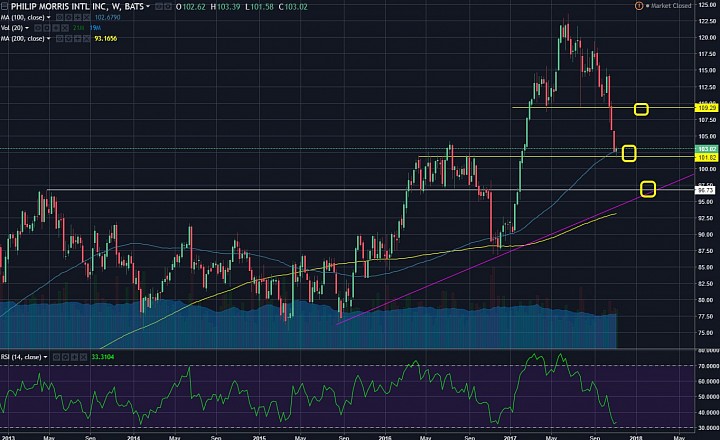 (click to enlarge)
Support:
- This past week, price was testing the 101 area, which was a key support area.
- There is the 100-week simple moving average. This area is also where a common resistance use to be in 2016.
- Furthermore, the weekly RSI is at a point where it has turned back up historically.
- We did find some buyers last week, so there is a possibility that PM will drive back up towards the 109-110 area, which is now a potential resistance.
- I think for now, I would limit the bullish outlook to 113-115.
- As the daily chart shows, this is where the 200- and 100-day simple moving averages reside. And there is a support/resistance pivot area here.
- Going back to the weekly chart, we can see that if price breaks below 100, there is another critical support around 96-97.
PM Daily Chart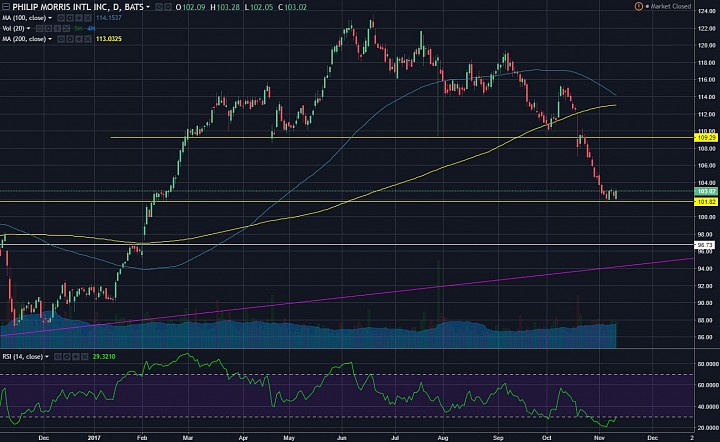 (click to enlarge)