AGNC made a solid case for their company for the rest of the industry.
An increase in option adjusted spreads is hurting book value for mREITs.
Higher option adjusted spreads result in stronger earnings over time because mREITs are able to exploit the difference in interest rates.
If rates increase, the hedged portfolio position for AGNC isn't too bad. AGNC's earnings would benefit from higher rates on MBS reducing prepayments.
If you're following American Capital Agency Corp. (NASDAQ:AGNC), you may have heard they were presenting at the "Barclays Global Financial Services Brokers Conference". Investors expecting just a few words or a little hype about the company may have gotten much more than they bargained for as management came out to make a very strong case for their company and for the industry. Over the last several months the mREIT industry has seen some enormous discounts to book value open up. At times, even highly successful and intelligently hedged mREITs have seen discounts to book value nearing 40% and the biggest players have seen discounts exceed 20%.
Option Adjusted Spreads
There were several great points in the presentation, but I want to focus in on a few of them that really highlight the amount of bad news and poor performance that has already been priced into the mREITs. The following slide talks about the current OAS (option adjusted spreads) on Agency MBS.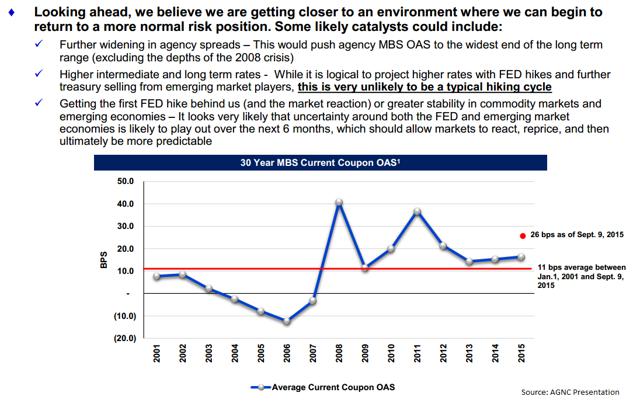 The current OAS is hitting 26 basis points which is dramatically higher than earlier in the year. When the OAS spreads are increasing, mREITs will generally be losing book value but they will be entering a much more favorable scenario for creating earnings. Allow me to give a simple example. Say you can buy an Agency MBS which after accounting for the implied option value related to prepayments has an estimated yield to maturity of 3.5%. Would you rather finance that at 3.39% or 3.24%? Clearly the latter option would provide substantially better margin for earnings, but moving from the first option to the second option involves a loss of book value. Of course, most mREITs won't be so heavily hedged as that example, but the point is to provide a very simple and clear example of the impact that widening spreads would have.
While mREITs generally borrow at very short term rates to finance their holdings, they also use LIBOR swaps to lock in their effective interest expense for a portion of their holdings. For the mREIT business structure to create returns for shareholders, a spread between the swap rates and the yields they can earn on assets is critical.
Because most mREITs are going to hedge significantly less than the value of repo agreements or use shorter weighted average terms than their assets, the cost of funds will regularly understate the cost of fully hedging.
Another great point is made in the slide when AGNC indicates that they would be fine with a short term hike if it allowed the market to have greater stability. As I wrote recently, volatility is the worst thing for mREITs. A higher short term interest rate environment would result in higher funding costs for mREITs, but the impact on AGNC would be heavily muted because they have hedged quite heavily against that rate increase. The result is that their effective cost of funds would still increase but not by a very significant margin.
The benefit of that higher short term rate from the perspective of AGNC is that it may provide some stability to MBS rates. Stability in the MBS rates would result in the embedded call option in RMBS (residential mortgage backed securities) having less value. Remember that options are more valuable when security values are more volatile. If MBS rates are less volatile, refinancing is less attractive. If refinancing becomes less common, the prepayments on higher yield MBS drop substantially. That reduces amortization and results in stronger yields on assets. The net impact is that yields on assets could rise more than the cost of funds and AGNC would have a larger net interest spread.
My Thinking on OAS and Stability
The increasing OAS can drive some hits to book value, but it can also result in a material improvement in the expected levels of return on equity which enhances dividend sustainability and encourages mREITs to trade at a premium to book value. That does not create an instant 20%to 25% upside from a discount to book value ending since these better yields involve taking a hit to book value for most mREITs.
When investors look at factors like discount to book value, they need to consider the macroeconomic environment. If mREITs are unable to buy Agency MBS and receive a higher OAS than the cost of hedging the asset, they are forced to gamble on the rate curve to make money. It may seem like mREITs are usually gambling to make money, but when OAS spreads are high the odds are stacked in their favor. When OAS spreads are low or negative, the odds are stacked against them. I'd rather put my money in at a substantial discount to book value right as the odds are shifting to be in the favor of mREITs.
Some investors may feel that a 20% discount to BV is the same today, tomorrow, and forever. That would have a great deal of merit if you had the option to immediately force liquidation and sell the assets. When you are looking at the mREIT based on an assessment of their long term ability to produce earnings (and therefore sustainable dividends) at a reasonable level of risk, you want to be investing when the industry has a much better OAS. Here it is, despite some MBS yield reductions there will be mREITs reporting losses from the spread widening. The mREITs still trade at substantial discounts to book value despite an improving picture for earnings.
How Could Book Value Fall by 20%?
For the discount to book value to completely evaporate on the basis of falling book values, it would take around a 100 basis point increase in rates across the curve with a 25 basis point increase in OAS. That would put us around a stagger 50 basis point spread. That kind of environment would encourage mREITs to leverage up and report massive earnings from exploiting the spread. Put simply, if the OAS on Agency RMBS were exceeding 50 basis points, then it would easily be worth paying book value to acquire mREITs because they would be increasing earnings and dividends.
When AGNC presented, they made a solid case for their own mREIT and for the rest of the industry. I will be interested in seeing how the interest rate movements shake out over the next week or two and I will probably need to issue several new pieces to update coverage on mREITs to reflect the change (or lack thereof) for each mREIT. If the short term rates did increase, AGNC is in a decent position to protect their portfolio. If the OAS widens, it will materially hurt book value performance for most mREITs but it will also make them deserve substantially smaller discounts because of the favorable impact on earnings.
If you want to see that coverage across the sector as I crank it out, scroll to the top of the article and hit the follow button.
Additional disclosure: Information in this article represents the opinion of the analyst. All statements are represented as opinions, rather than facts, and should not be construed as advice to buy or sell a security. Ratings of "outperform" and "underperform" reflect the analyst's estimation of a divergence between the market value for a security and the price that would be appropriate given the potential for risks and returns relative to other securities. The analyst does not know your particular objectives for returns or constraints upon investing. All investors are encouraged to do their own research before making any investment decision. Information is regularly obtained from Yahoo Finance, Google Finance, and SEC Database. If Yahoo, Google, or the SEC database contained faulty or old information it could be incorporated into my analysis.
More