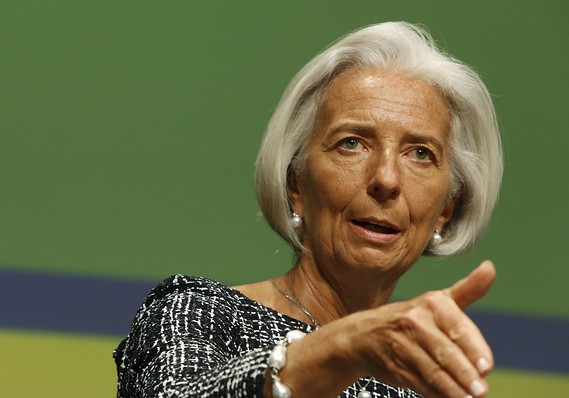 Reuters
International Monetary Fund Managing Director Christine Lagarde said Wall Street has to repair its reputation.

International Monetary Fund Managing Director Christine Lagarde on Thursday said she learned first-hand how low Wall Street had sunk in the minds of young people when her son told her he might not speak to her if she decided to join an investment bank
"Mom, if you join one of these big investment banks, I am not sure I will be talking to you again," Lagarde said her son told her during a discussion of her career options.
The comment gave her a moment of pause and taught her "there was a lot of repair" needed to improve the public's low opinion of the financial sector, Lagarde said at a conference on improving ethics on Wall Street sponsored by the New York Fed.
An IMF spokeswoman declined to comment on which of Lagarde's two sons made the remark.
The IMF chief was not the only top official to speak in unusually personal terms about how disturbed they were about the lack of moral integrity on Wall Street. Fed Vice Chairman Stanley Fischer echoed her sentiments.
Improving the culture on Wall Street has been a focus of New York Fed President William Dudley. Two years ago, Dudley made waves when he complained of "deep-seated culture and ethical failures" in the financial industry, which wasn't something that any of his predecessors had said.
"Many of the industry leaders now agree," Dudley told the conference.
Fischer warned that the battle against corruption will "go on forever."
Unregulated free markets don't reward "heros" who restrain from taking advantage of customers, he said.
When competitors are making a profit from some unethical practices, others tend to join in, Fischer said.
"When others are doing it, it tends to get done," he said.
Fischer, who grew up in what is now Zambia, told the conference that he often pleaded with his parents to be able to go hunting by telling them that the other boys were doing it.
"My parents didn't approve of an 8-year old using guns for some reason. They said 'well, the others may be doing it, but you're not,'" he said.
Fischer said the best remedy to battle corruption is for regulators to set out "very strong negative incentives for bad behavior, enforced through the law, through companies and hopefully through markets."
"This is not a battle that can be won," Fischer said. "Even in the best barrels, there will be bad apples."
More from MarketWatch