The S&P 500 and the Dow are enjoying a stunning run that has them approaching records set back in May.
However, concerns over the future of this latest rally-run are growing as the current bull market, which started in 2009, marks its seventh year anniversary next week.
That makes this the second longest bull market since the 13-year rally that ran from 1987-2000.
We also need to keep in mind that the major averages are facing resistance, as distribution days mount.
The current market status has now been officially moved to "under pressure".
Futures are pointing to a lower open.
At this point, we are looking for any indications to sell some of our previous breakouts and take some profits.
Any stocks showing weakness will be the first to go, while we will hold our stronger acting positions.
I urge you to take some time and sort your holdings from the technically weakest to the strongest.
Any positions which are selling off on volume, are showing weakness. Stocks which are breaking support are triggering sell signals.
Here is how I can sort the current TrendLine Portfolio this morning.
We've seen some genuine weakness in: DOC (P/L: +5.3%), ERI (P/L: +22.1),EXLS (P/L: +12.3%), and MXL (P/L:+8.5%).
Conversely, there has been some solid action in SINA (P/L: +0.4%), OSUR(P/L: +11.8%), DHR (P/L: +0.5%) andUNH (P/L: +11.8%) this week.
Stock such as COTY (P/L: –0.6%), INCR (P/L: +11.1%), CYNO (P/L:–0.3%), LKQ (P/L: +3.9%), SEP (P/L: +4.2%),ORIT (P/L: +4.3%), PRLB(P/L: +32.5%), VLRS (P/L: +22.1%), HII (P/L: +12.0%), XRAY (P/L:+2.1),
ORA (P/L: +16.8%), OLED (P/L: +12.8%), SONC (P/L: +1.5%), PLAY(P/L: +2.5%), WTS (P/L: +3.1%), DW (P/L:+5.7), AHS (P/L: +19.6%),TMUS (P/L: -0.3%), TXRH (P/L: +15.9%) LYTS (P/L: +3.1%) are all holding up as of Friday's close.
Here is a one stock from my TrendLine SetUps WatchList, which am I monitoring today for a buyable breakout.
Level 3 Communications, Inc. (LVLT – NYSE)
As of this morning, shares are already trading above their TRIGGER PRICE.
Any gains from here with the daily volume on pace to make its TRIGGER VOLUME, would have this stock triggering a technical buy signal up to its MAX BUY PRICE.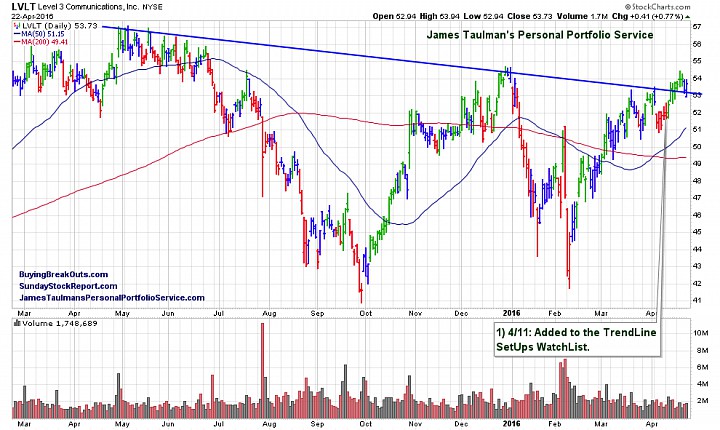 Chart courtesy of stockcharts.com