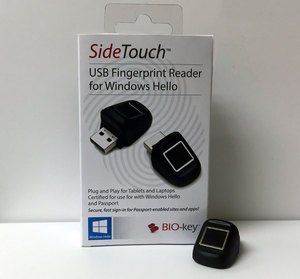 WALL, NJ--(Marketwired - Aug 1, 2016) - BIO-key International, Inc. ( OTCQB : BKYI ), a trusted provider of enterprise and consumer biometric software and hardware authentication solutions, today announced it has signed a strategic sales and distribution agreement with Access Sales Group (ASG) for distribution of its fingerprint biometric readers and software into high-volume retail and enterprise channels. ASG has extensive VAR/VAD distribution along with a retail partner network with expertise in driving new products through the retail sales channel. ASG's network includes mass market retailers, consumer electronics stores, warehouse clubs, retail TV, electronics distributors and the federal government.
"We are very excited about launching BIO-key's secure authentication solutions into national distribution, dealer VAR/VAD, enterprise and retail partners. This technology delivers ease of use for secure sign-in for Windows Hello-enabled sites and applications. Most consumers and enterprise customers are looking for an easy solution to address the inefficiencies of passwords and prevent credential misuse," stated Norman Yohay, President of ASG.
"Since its launch a year ago, Windows 10 is already running on 350 million devices. Leveraging the Windows Hello™ biometric support built into Windows 10, BIO-key's hardware and software is well positioned as the strongest, most convenient and cost effective authentication choice for Windows 10 users," stated Mike DePasquale, BIO-key Chairman and CEO.
"Customers tell us that improved security and a simplified end-user sign-in experience are among the primary reasons they choose Windows 10," said Margaret Arakawa, Microsoft General Manager, U.S. Windows 10 & Devices. "BIO-key is our strategic partner that extends...
More