European stocks rose asScotland voted to reject independence from the U.K., while the regional benchmark index failed to hold on to a 6 1/2-year high amid the expiry of derivative contracts.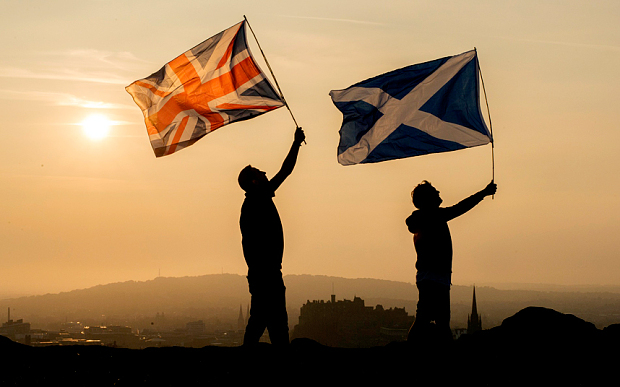 Royal Bank of Scotland Group Plc and Lloyds Banking Group Plc, which had threatened to shift their domiciles out of Scotland if it separated from Britain, rose. SAP SE fell the most since January 2013 after the biggest maker of business-management software agreed to buy Concur Technologies Inc. Sulzer AG lost 4.3 percent after people familiar with the plan said Siemens AG may make an offer for Dresser-Rand Group Inc. Options and futures on stocks and indexes expired today in a process known as quadruple witching.
The Stoxx Europe 600 Index gained 0.2 percent to 348.52, after earlier rallying as much as 0.9 percent. The number of shares changing hands in the gauge's companies was more than double the 30-day average for this time, according to data compiled by Bloomberg. The U.K.'s FTSE 100 Index advanced 0.3 percent.
"It's a risk-on day," Richard Champion, chief investment officer of Sanlam Private Investments (U.K.) Ltd., which manages $4 billion, said by telephone in London. The Scottish referendum "is one more thing investors don't have to worry about. A 'yes' vote would've caused uncertainty for the European and U.K. markets. In continental Europe, we have loose monetary policy that will be supportive for shares."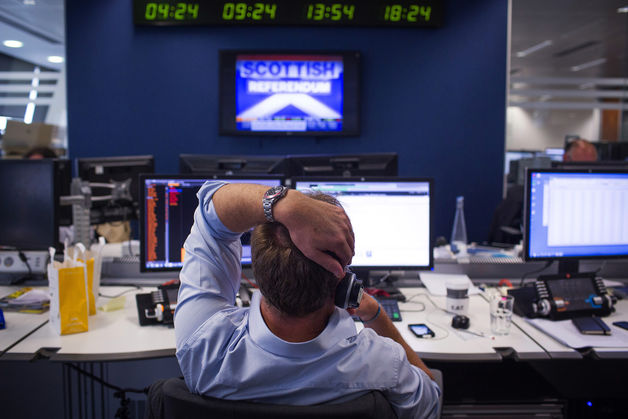 Scotland voted to remain in the U.K. after an independence referendum that put the future of the 307-year-old union on a knife edge and risked years of political and financial turmoil. About 55 percent of Scottish voters supported the pro-union campaign, compared with 45 percent who backed a split.
Weekly Gains
The Stoxx 600 gained 1.2 percent this week, building on gains after Federal Reserve Chair Janet Yellen indicated U.S. interest rates won't increase any time soon. The FTSE 100 posted a weekly increase of 0.5 percent, after falling on the first three days of the week amid the uncertainty surrounding the Scottish vote.
A measure of expected volatility in euro-area stocks, based on options prices, tumbled 9.4 percent to the lowest level since July. A similar index for FTSE 100-listed stocks plunged 31 percent, completing the biggest drop since 2000.
National benchmark indexes rose in 13 of the 18 western-European markets. Germany's DAX Index was little changed, while Franc's CAC Index was slid less than 0.1 percent.
Relief Rally
"We're seeing a relief rally," Benno Galliker, a trader at Luzerner Kantonalbank AG in Lucerne,Switzerland, said. "I'm still bullish on the equity market. After a sideways market since the beginning of September, it seems we're breaking out to the upside. Look at Japan, China and U.S. Even Europe looks not that bad. There is still money around to be invested."
RBS gained 2.5 percent to 366 pence and Lloyds rose 1.3 percent to 76.82 pence. Both lenders had said they would shift their domiciles out of Scotland if the country voted for independence. A gauge of European banks added 0.2 percent.
Babcock International Group Plc increased 2.4 percent to 1,091 pence.
Waertsilae Oyj added 1.5 percent to 36.65 euros. Investor AB, the holding company of Sweden's Wallenberg family, raised its stake in Waertsilae, acquiring 15.8 million shares in the Finnish power-plant and ship-engine maker for about 639 million euros.
SAP retreated 3.8 percent to 57.63 euros. The world's biggest maker of business-management software agreed to pay $129 a share for Concur, a 20 percent premium over the Sept. 17 closing price, in a deal valued at about $7.4 billion. The acquisition gives SAP a developer of software that helps businesses manage travel expenses.
Sulzer fell 4.3 percent to 130.10 Swiss francs. Siemens may offer more than $6.5 billion for Dresser-Rand to counter Sulzer's plan to merge with the U.S. oil-and-gas equipment maker, the people said.