After Halliburton Co. (HAL - Get Report) spent all year as one of the worst stocks you could own, it is finally showing some signs of life.
Without a doubt, 2017 has been a tough year for Halliburton shareholders. Year-to-date, this $36 billion oil services stock has shed more than 22% of its market value, a chasmic underperformance as the rest of the broad market plows into new all-time highs this fall.
And third quarter earnings are handing those same investors another round of disappointment -- Halliburton is down more than 1.2% in the wake of its earnings, despite reporting Q3 numbers that meaningfully beat analysts' estimates for the period.
On average, analysts were hoping for Halliburton to report earnings of 37.5 cents per share -- Halliburton instead posted a 42-cent profit. The reaction is being blamed on worse fracking margins than were expected. Halliburton isn't alone in its price slump, though. The entire energy sector can't seem to catch a bid this year, and Halliburton just serves as one of the more notable examples on the market today.
That's the bad news. The good news is that Halliburton is actually starting to show some signs of life in its price action -- in other words, shares are potentially setting themselves up for a big turnaround trade in the final stretch of the year.
To figure out how to trade it, we're turning to the chart for a technical look: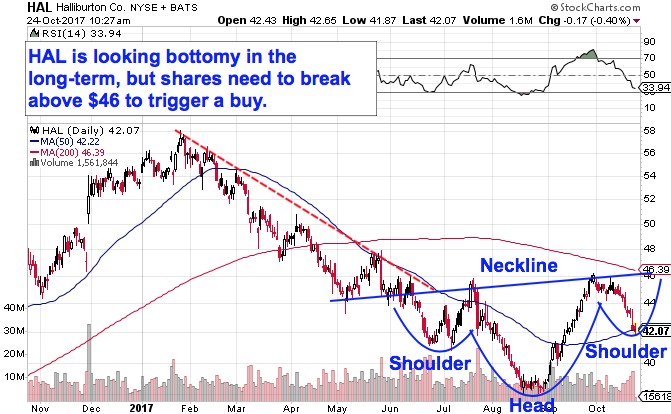 It's not hard to decipher what's been happening in shares of HAL for most of this year. Since peaking back at the end of January, this stock has been selling off in a consistent, orderly manner. That all changed back at the end of the summer, though, when Halliburton's price action started moving more sideways amid higher volatility -- in fact, shares were starting to form a pretty textbook example of a long-term bullish reversal pattern. HAL might be in the final stages of that setup this month.
More