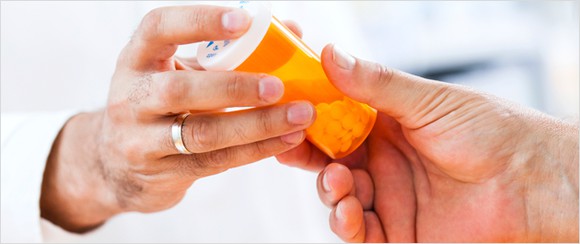 Image source: U.S. Food and Drug Administration.
Ask around, and you'll probably get little argument from consumers, physicians, or insurers that medical drug use around the globe, as well as drug costs, are on the rise. But what might the next five years hold for consumers and the pharmaceutical industry in terms of global medicine use? That's a question the IMS Institute for Healthcare Informatics sought to answer with the release of its latest report , Global Medicines Use in 2020: Outlook and Implications .
Some of the expectations I had prior to reading the report rang true, but more than a handful of stunning findings emerged from IMS Institute for Healthcare Informatics' report. Here are seven of the most glaring points that stand out (in no particular order).
1. "Pharmerging" drug demand is about to soar
One of the more surprising findings of the report is that emerging-market countries with still-developing healthcare infrastructure, known as "pharmerging markets" within the report, are likely to be the driving force behind global drug-demand increases between 2016 and 2020.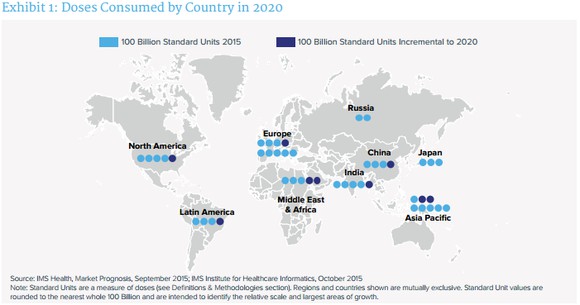 Image source: IMS Institute for Healthcare Informatics.
By 2020, global patients will receive 4.5 trillion doses of medicine each year, a 24% increase from 2015. Additionally, more than half of the world's population will live in a country that consumes an average of at least one dose per person per day, up from 31% in 2005. The report cites China, India, Brazil, and Indonesia as the primary pharmerging market-growth drivers in the coming years.
What this data suggests is that the gap between developed markets and pharmerging markets is closing a bit. But as you'll see in the following point, while great news for consumers, this isn't necessarily great news for global drugmakers.
2. Developed markets are still where the profits are for drugmakers
Despite pharmerging markets playing a far-bigger role in the global medicine-use picture, it's developed markets that continue to hold most of the allure for drugmakers.
The report notes that pharmerging market growth will predominantly come from the use of generics and non-original branded products. Costs for these medicines are often just a fraction of what the brand-name drug would sell for in a developed country. But these lower costs are usually far-less attractive for drugmakers because of the adverse impact on margins.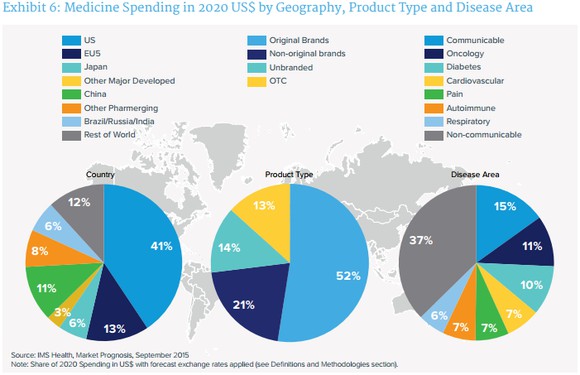 Image source: IMS Institute for Healthcare Informatics.
As a whole, developed markets by 2020 will account for 63% of global-drug spending, with 52% of that spending tied to original brand, or innovator, drugs. China, Brazil, Russia, India, and other pharmerging markets comprise another quarter of total spending by 2020.
High-margin specialty therapies are particular beneficiaries in the developed markets, with autoimmune, immunosuppressant, and oncology therapies expected to deliver the fastest compound annual growth rate between 2016 and 2020.
3. Global drug spending growth of nearly $350 billion by 2020
After crossing $1 trillion in global drug sales in 2014 for the first time in history, IMS Institute for Healthcare Informatics anticipates that global drug spending will jump from nearly $1.07 trillion in 2015 to...
More