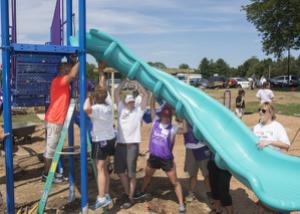 MILFORD, Conn.--(BUSINESS WIRE)--
Today more than 100 Milford-area residents and local UnitedHealthcare employees built a new playground at the Woodruff Family YMCA, a Branch of the Central Connecticut Coast YMCA.
This Smart News Release features multimedia. View the full release here: http://www.businesswire.com/news/home/20150822005005/en/
The new 3,000-square-foot playground includes a playdozer, cozy cocoon, rocky ridge climber and more. The playground's design is based on drawings created by children from the Woodruff Family YMCA who participated in a "design day" event in July. The new playground will give more than 17,000 kids in Milford a modern and safe place to play.
The volunteers worked with KaBOOM!, a national nonprofit organization dedicated to bringing play to all kids. The Milford YMCA playground is the 2,649th KaBOOM!-organized build since 1996, and the 18th created by KaBOOM! and UnitedHealthcare.
"The Woodruff Family Y is excited to be part of such an amazing team," said Charlie Clifford, Woodruff Family Y District Executive Director. "The Y, United Healthcare, KaBOOM! and the City of Milford – all striving to keep our youth healthy and active – that's Community!"
"UnitedHealthcare is grateful for the opportunity to help build a playground at the Woodruff Family YMCA," said Stephen Farrell, CEO, UnitedHealthcare of New England. "We believe the...
More