We expect Massachusetts-based medical instruments manufacturer, Thermo Fisher Scientific, Inc. TMO to beat expectations when it reports first-quarter 2016 results before the opening bell on Apr 28. Last quarter, the company had reported a positive earnings surprise of 47%. Also, the four-quarter trailing average beat is pegged at 1.41%. Let's see how things are shaping up for this announcement.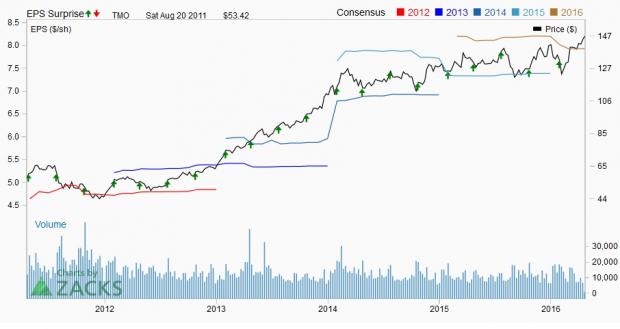 Why a Likely Positive Surprise?
Our proven model shows that Thermo Fisher is likely to beat earnings because it has the right combination of two key ingredients.
Zacks ESP: Thermo Fisher's Earnings ESP is +0.58%, since the Most Accurate estimate stands at $1.75 while the Zacks Consensus Estimate is pegged lower at $1.74. A favorable Zacks ESP serves as a meaningful and leading indicator of a likely positive earnings surprise. 
Zacks Rank: Thermo Fisher currently has a Zacks Rank #3 (Hold). Note that stocks with a Zacks Rank #1, 2 or 3 have a significantly higher chance of beating earnings estimates. Conversely, Sell-rated stocks (#4 or 5) should never be considered going into an earnings announcement.
The combination of Thermo Fisher's Zacks Rank #3 and +0.58% ESP makes us reasonably confident of a positive earnings beat.
What is Driving the Better-than-Expected Earnings?
After a solid 2015, Thermo Fisher is looking forward to continue this momentum even in 2016. It is encouraging to note that with about 4% expected organic growth for full-year 2016, the company anticipates reporting 7% growth in the first quarter.
As in 2015, even in the first quarter of 2016, the company expects to see strong growth in the bioproduction and biosciences businesses. Strong productivity and incremental cost synergies are expected to further improve operational efficiencies down the line.
With respect to Life Technologies synergy, per the company, it is perfectly on track to deliver revenue and cost synergy targets. By the end of 2015, the company realized $130 million of incremental cost synergies, in line with its full-year target. Revenue synergies at 2015 end were $90 million, much faster than anticipated. This puts Thermo Fisher in a comfortable position to achieve its full-year 2016 targeted synergy to deliver $150 million in revenue. The company is also confident of its overall three-year synergy target which has been raised from $300 million to $350 million.
Apart from the Life Technologies integration, we are also focusing on the company's emerging market growth strategies. The company expects to garner 25% of total revenue from the high-growth Asia-Pacific and emerging markets by 2016 from 19% in 2011 (10% in 2006). Thermo Fisher's expanding presence in emerging markets will continue to be an important growth driver for the first quarter.
In this context, we need to mention the company's recent decision to buy Affymetrix Inc. (AFFX) for $1.3 billion. Affymetrix, which works on multiplex and simultaneous analysis of biological systems at the cell, protein, and gene level, facilitating the transition of research tools into clinical and applied markets, is expected to boost Thermo Fisher's offering in the fast-growing flow cytometry market through an advanced antibody portfolio. Although this impending acquisition (to close in second-quarter 2016) will not have any impact on the company's first-quarter performance, investor sentiment is picking up based on this news.
Other Stocks to Consider
Here are some other companies you may want to consider as our model shows they too have the right combination of elements to post an earnings beat this quarter: 
Align Technology Inc. ALGN has an Earnings ESP of +12.82% and a Zacks Rank #2 (Buy).
Becton, Dickinson and Co. BDX has an Earnings ESP of +2.49% and a Zacks Rank #2.
Gilead Sciences Inc. GILD has an Earnings ESP of +1.65% and a Zacks Rank #2.
Want the latest recommendations from Zacks Investment Research? Today, you can download 7 Best Stocks for the Next 30 Days. http://woas.zacks.com/adv/7stock_report.pdf?ADID=ZACKS_PFP_7... blog">Click to get this free report >>
Want the latest recommendations from Zacks Investment Research? Today, you can download 7 Best Stocks for the Next 30 Days.
Click to get this free report
THERMO FISHER (TMO): Free Stock Analysis Report
GILEAD SCIENCES (GILD): Free Stock Analysis Report
ALIGN TECH INC (ALGN): Free Stock Analysis Report
BECTON DICKINSO (BDX): Free Stock Analysis Report
To read this article on Zacks.com click here.
Zacks Investment Research