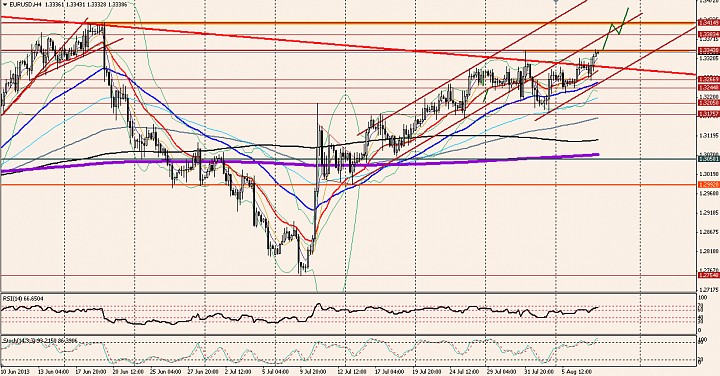 The
EUR/USD has extended its gains, has taken on a decidedly more bullish tone, and now runs up against key resistance at 1.3343. A break and hold of this resistance level would mean the pair targets the next key pivots at 1.3388 and 1.3414 (and 1.3454 beyond those).

Momentum is on the side of the advance and the pair looks to abandon its ranging action this week, (though a move above the aforementioned resistance is still needed to say that with certainty).


I went over my views on why the USD is very weak
earlier today, and this trade conforms to that general bias.
Adding to the evidence of further topside potential is the break of the trendline connecting the Feb 1st and June 18th highs (the orange/red trend-line in the chart), which is an important technical clue.
To stem the tide of the pair's advance, and fall back into sideways action, the current resistance level would have to be protected, the pair would have to move back below the 1.3000 handle, and a lower low than 1.3263 would have to be established.
- Nick