ES mini: There's a weekly short at play here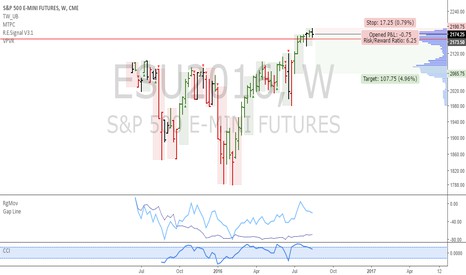 We can enter shorts based on the RgMov signal obtained from the ES1!0.00%% ticker (rolling contract).
Good luck!

Check out my updated track record here: http://pastebin.com/6CyyqnPT

If interested in my real time whatsapp alerts and swing trading newsletter, or in personal tuition, contact me privately. I'm offering a considerable discount on a packaged course which includes access to my private trading signals list for a year.

Cheers!

Ivan Labrie

Link to Tim West's chatroom: https://www.tradingview.com/chat/#c8BzrhGRvXxGXWnJ
We discuss setups like this often there. Feel free to stop by and subscribe to his indicator pack. If you have any questions ask.

Risk disclaimer: My analysis is provided as general market commentary and does not constitute investment advice. I will not accept liability for any loss or damage including, without limitation, to any loss of profit which may arise directly or indirectly from use of or reliance0.00%% on such information.