General Electric (GE) has been trading within a range since February between roughly 29.25 and 30.50. We noted that there was bearish bias within this sideways range, and that GE was likely going to have a bearish outlook in the short to medium-term. Indeed, price closes below 29.25 this week, we should anticipate further downside.

General Electric (GE) Daily Chart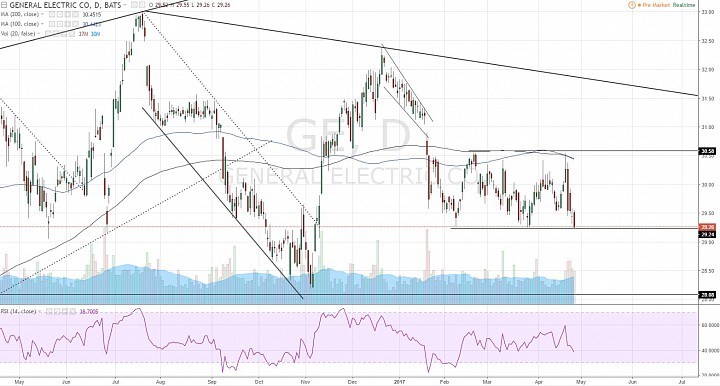 (click to enlarge)
Range Support:
- The daily chart shows that price fell from range resistance around 30.50 straight to range support around 29.25 this week.
- Such heavy price action suggests we should not expect much support here at 29.25. After all, there was no buying at the end of the 4/26 session when price approached this support.
Next Support:
- The next key support as we can see on the weekly chart is around 27.50.
- Note the 200-week simple moving average here along with other support/resistance pivots going back to 2014. 
- Also note that the general trend in the long-term is bullish, and GE is simply in a consolidation pattern that started in 2016. 
- Some might argue that a rounded top is developing, which is very possible. But even so, we should anticipate support at the neckline around 27.50.