Last week, USD/JPY continued a prevailing uptrend after the FOMC event. Then it found resistance at 109.45. Price action so far this week can be interpreted as price tops. There is a tilted head and shoulders as well as a triangle pattern that provide a price top. 

After the dip from these tops, price has fallen below the 100-, and 50-hour SMAs, and the 1H RSI has fallen below 30, which not only indicates loss of bullish momentum but initiation of bearish momentum in this time-frame. But will that bearish momentum stick?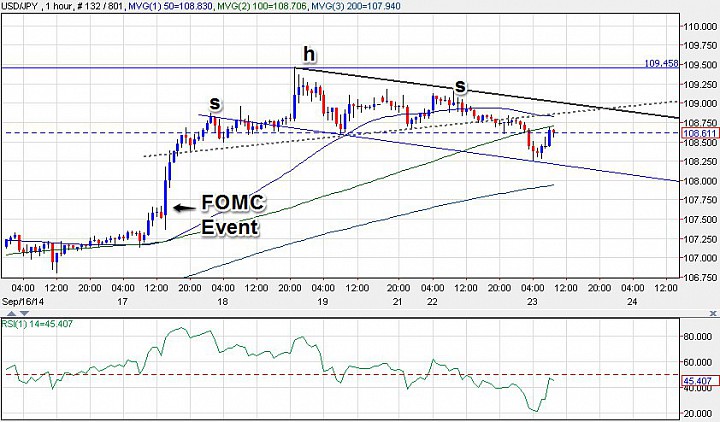 (USD/JPY 1H Chart 9/23)
After finding support at 108.25 in the 9/23 European session, USD/JPY is rallying. This support pivot might be part of a flag pattern. Now, if price can push above 109 and the flag pattern, we have bullish continuation to 109.45 with upside risk to the 110 handle. In anticipation of this scenario, make sure the 1H RSI at least breaks above 60 and preferably pushes above 70. 

Now if the market continues to consolidate, it might not be in a flag pattern, but there would be at least downside risk to the 108.00 handle, which is where the 50-period SMA in the 4H chart resides. 

Also pay attention to the 4H RSI. If the market is still bullish the RSI should hold above 40. If price breaks below 108.00. The next key support will be in the 107-107.40 area. This area represents the base behind the FOMC rally. If this is broken, the USD/JPY could be in for some medium-term consolidation, and the 109.45 high could be there to stay for a while.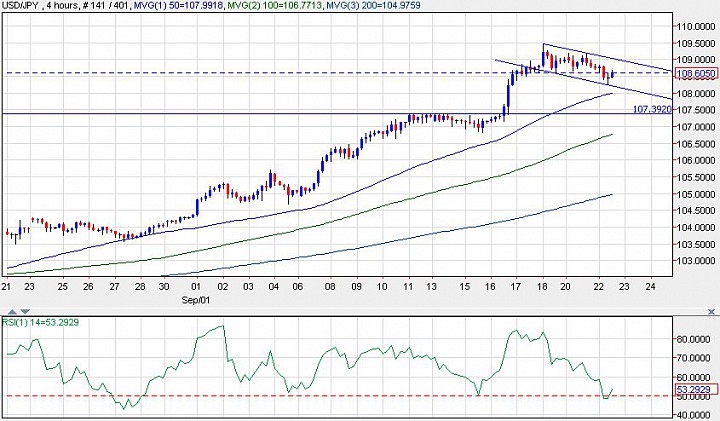 (USD/JPY 4H Chart 9/23)