Gogo Inc. GOGO is set to report third-quarter 2017 results on Nov 2. The company has a mixed record of earning surprises in the trailing four quarters with an average positive surprise of 4.62%.
Last quarter, the company reported a loss of 56 cents per share, which was wider than the Zacks Consensus Estimate of a loss of 49 cents. However, revenues increased 17% year over year to $173 million and beat the Zacks Consensus Estimate of $168 million.
Notably, Gogo shares have gained 7.6%, substantially outperforming the industry's decline of 13.8%. The outperformance can be attributed to the high adoption rate of Gogo's 2Ku technology.
Let's see how things are shaping up for this announcement.
Factors at Play
Gogo faces significant concerns due to increased costs related to the launch of 2Ku service for new and existing airline partners, OEM 2Ku programs, and costs associated with the development of its futuristic ATG solution.
However, Gogo announced earlier this month that it has installed 110 2Kus – its in-flight connectivity service – in third-quarter 2017. Reportedly, as of Sep 30, 2017, the company installed 2Ku service in 340 aircrafts. We note that the company's lower bandwidth cost structure coupled with faster installation rate is helping it to gain traction in the market.
Moreover, Gogo's onboard Internet connectivity services got a major boost with the Federal Aviation Administration granting Supplemental Type Certification (STC) and Parts Manufacturer Approval (PMA) for the 4G dual-directional antennas that are to be used with Gogo AVANCE L5 – its new Wi-Fi inflight system.
We believe the increasing adoption rate of Gogo's 2Ku technology will be instrumental in driving top-line growth for the company. However, despite its strength, Gogo faces stiff competition from peers like ViaSat Inc. VSAT.
Additionally, higher operating expenses due to increased investment in the Commercial Aviation – Rest of World (CA-ROW) segment pose concerns.
Gogo Inc. Price and EPS Surprise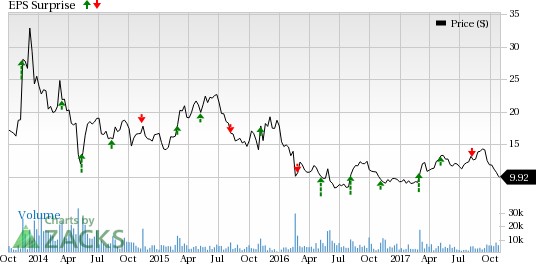 Unfavorable Rank, Negative ESP
We believe that Gogo is unlikely to deliver a positive earnings surprise in the third quarter due to an unfavorable combination of a Zacks Rank #5 (Strong Sell) and Earnings ESP of -1.58%. You can uncover the best stocks to buy or sell before they're reported with our Earnings ESP Filter.
Stocks That Warrant a Look
Here are a couple of companies that you may want to consider as our model shows that these have the right combination of elements, a positive Earnings ESP and a favorable Zacks Rank, to deliver an earnings beat in their upcoming release:
Kemet Corporation KEM with an Earnings ESP of +7.46% and a Zacks Rank #1 (Strong Buy). You can see the complete list of today's Zacks #1 Rank stocks here.
HubSpot Inc HUBS with an Earnings ESP of +26.53% and a Zacks Rank #2 (Buy).
Wall Street's Next Amazon
Zacks EVP Kevin Matras believes this familiar stock has only just begun its climb to become one of the greatest investments of all time. It's a once-in-a-generation opportunity to invest in pure genius.
Want the latest recommendations from Zacks Investment Research? Today, you can download 7 Best Stocks for the Next 30 Days.
Click to get this free report
HubSpot, Inc. (HUBS): Free Stock Analysis Report
ViaSat, Inc. (VSAT): Free Stock Analysis Report
Kemet Corporation (KEM): Free Stock Analysis Report
Gogo Inc. (GOGO): Free Stock Analysis Report
To read this article on Zacks.com click here.
Zacks Investment Research