The AUD/USD, after sliding precipitately during much of November has entered a sideways consolidation stage over the previous 2 weeks. 
<!== INSTRUMENT %% %240% ==!>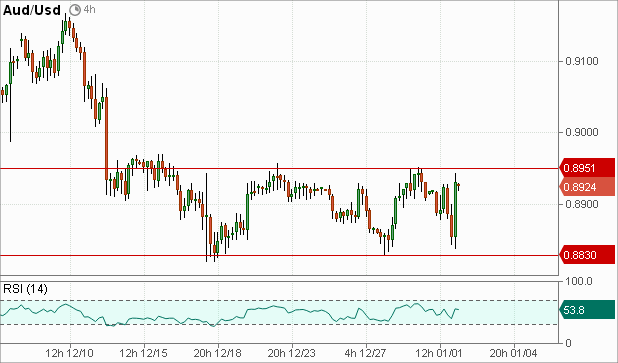 This sideways action continued today, as the pair came close to tagging its support level near 0.8830, after which it rallied to resistance in the range around 0.8950.

With these 2 levels defining the sideways channel, we should be looking for a break to either side depending on how risk sentiment/macro data shake out next.
Market participants are very short the Aussie according to the COT report, and so if the pair starts rallying there could be the potential for a short squeeze.

Some positive data from the Australian and probably more importantly the Chinese economies would help the bullish case, while weak data from those 2 probably means another downswing is in the offering.
Again, with such clear level in the range, its bets to see which way the pair breaks out and work from there.
I've missed several times trying to play a short-term reversal in this pair, but can still make a slightly bullish case because of the long-term picture in the pair. However, if the pair fails to break and hold above resistance, then there is no bullish attempt.