On Aug 22, we issued an updated research report on Waltham, MA-based PerkinElmer, Inc. PKI. The company provides scientific instruments, consumables, and services to pharmaceutical, biomedical, environmental testing, chemical, and general industrial markets worldwide. The company currently has a Zacks Rank #3 (Hold).
PerkinElmer's expanding product portfolio is helping the company win market share worldwide. Within a short span of time, its new products have gained significant traction among consumers. We believe the products will continue to boost the company's market share in areas like diagnostics, research and environment.
Moreover, PerkinElmer is well positioned to benefit from investments in the area of cancer immunotherapy as well as the rising trend of outsourcing instrument maintenance and scientific services over the long term.
Acquisitions and strategic partnerships have been key catalysts for PerkinElmer over the years. Earlier this year, the company announced plans to acquire EUROIMMUN Medical Laboratory Diagnostics AG for approximately $1.3 billion in cash. The deal is expected to close in the fourth quarter of 2017.
The acquisition of EUROIMMUN Medical Laboratory Diagnostics will expand PerkinElmer's reach in the autoimmune and allergy diagnostic markets. The acquisition will also reinforce the company's capabilities pertaining to new infectious diseases in the Chinese market. Per management, the acquisition is expected to add about 28 cents to 30 cents to 2018 adjusted earnings.
PerkinElmer continues to acquire a large number of companies. While this improves revenue opportunities, it adds to integration risks. The frequent acquisitions can also negatively impact its balance sheet in the form of a high level of goodwill and intangible assets. Frequent acquisitions are also a distraction for management and impacts organic growth.
Stock Performance at a Glance
PerkinElmer's share price movement in the past one year has been unsatisfactory. The company represented a return of almost 16%, a bit lower than the broader industry's return of almost 22.1%. The company has been witnessing weakness in academic markets outside the United States. Furthermore, lackluster performance in Europe impacted the company's third-party logistics in the second quarter.
The estimate revision trend has been favorable for PerkinElmer over the last two months. For the current quarter, five estimates moved north compared to one movement in the opposite direction, while for the full year eight estimates moved north over the same time frame.
This has had a significant impact on the magnitude of the estimates as the current quarter estimates increased 2.8%, while full-year estimates inched 1% up over the same time frame.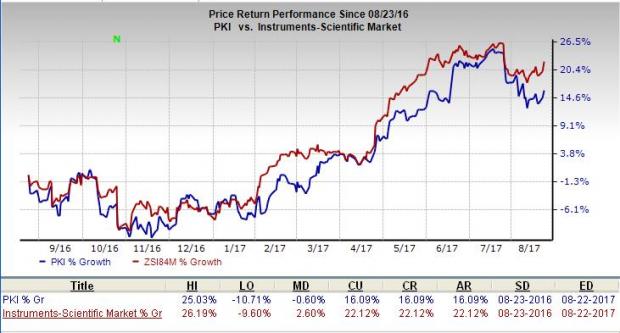 Key Picks
A few better-ranked stocks in the broader medical sector are Edwards Lifesciences Corp. EW, IDEXX Laboratories, Inc. IDXX and Cogentix Medical, Inc. CGNT. Notably, Edwards Lifesciences sports a Zacks Rank #1 (Strong Buy), while IDEXX Laboratories and Cogentix Medical have a Zacks Rank #2 (Buy). You can see the complete list of today's Zacks #1 Rank stocks here.
Edwards Lifesciences delivered an average earnings beat of 10.8% over the trailing four quarters. The company has a long-term expected earnings growth rate of 15.2%.
Cogentix Medical registered a positive earnings surprise of 200% in the last reported quarter. The stock represented a stellar return of 100.9% over the last one year.
IDEXX Laboratories delivered an average earnings beat of 9.3% over the trailing four quarters. It has a long-term expected earnings growth rate of 19.8%
4 Surprising Tech Stocks to Keep an Eye on
Tech stocks have been a major force behind the market's record highs, but picking the best ones to buy can be tough. There's a simple way to invest in the success of the entire sector. Zacks has just released a Special Report revealing one thing tech companies literally cannot function without. More importantly, it reveals 4 top stocks set to skyrocket on increasing demand for these devices. I encourage you to get the report now – before the next wave of innovations really takes off.
Want the latest recommendations from Zacks Investment Research? Today, you can download 7 Best Stocks for the Next 30 Days.
Click to get this free report
PerkinElmer, Inc. (PKI): Free Stock Analysis Report
IDEXX Laboratories, Inc. (IDXX): Free Stock Analysis Report
Cogentix Medical, Inc. (CGNT): Free Stock Analysis Report
Edwards Lifesciences Corporation (EW): Free Stock Analysis Report
To read this article on Zacks.com click here.
Zacks Investment Research