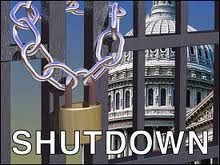 The U.S. government stands poised for its first partial shutdown in 17 years at midnight tonight, after a weekend with no signs of negotiations or compromise from the Congress or the White House. 
House Republicans, led by Speaker John Boehner, want to delay President Barack Obama's Affordable Care Act for a year and make other changes to the law. Democrats, led by Obama, say that won't happen. Republicans and Democrats say they don't want to close the government, though neither side is budging from their positions.
Obama will meet with his cabinet this afternoon as agencies prepare for a shutdown, and plans to reiterate to reporters that he won't give in to Republican demands over the health law, according to an administration official who asked for anonymity to discuss White House strategy. Hanging in the balance are 800,000 federal workers who would be sent home if Congress fails to pass a stopgap spending bill before funding expires tonight. 
What are your expectations? What USA will do?
By the way, I read an interesting article today "10 ways a government shutdown will affect your daily life". You can also read it here:
http://www.cnn.com/2013/09/23/politics/government-shutdown-daily-life/index.html